Happy Labor Day Weekend!
I'm sitting around doing nothing at the moment, but I did a little baking this morning.
After reading a few comments from people who tried to make Southern Living's peanut butter streusel brownies but had problems with the cook time, I decided to test the peanut butter streusel on Gloria's banana brownies. It worked perfectly and the peanut butter partnered well with the banana.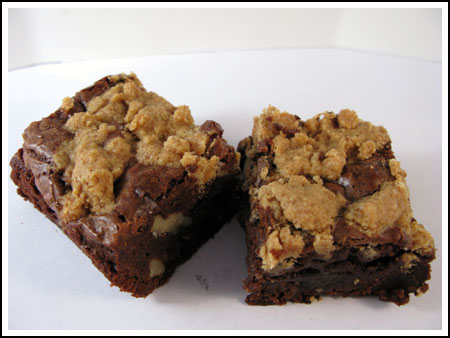 For kicks, I left peanut butter streusel off one quadrant of the brownies and tried swirling peanut butter on top (top left). To keep the peanut butter from drying out, I mixed it with a little melted butter, softened it, then drizzled it on.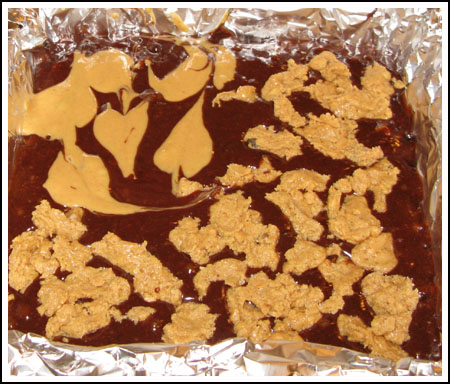 Unfortunately, the peanut butter still dried a bit and I ended up having to rub more plain peanut butter over the hot brownies just to make them look good, but the end result was still great. Next time, I might try mixing the peanut butter with a little vegetable oil instead or might even just rub the peanut butter mixture after baking like in this recipe.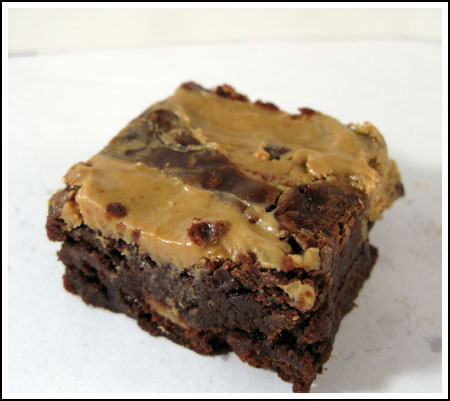 Another thing that might work with Gloria's brownies is the peanut butter ribbon technique. Melted peanut butter chips add sweetness and help the ribbons hold their shape while baking. I haven't made peanut butter ribbons in a while because I've been out of peanut butter chips, but I think they'd work well here.
Chocolate-Banana Peanut Butter Streusel Brownies and Chocolate-Banana Peanut Butter Swirl Brownies
Chocolate-Banana Peanut Butter Streusel Brownies
Ingredients
5 oz semi sweet chocolate, chopped
1 oz bittersweet chocolate, chopped
6 tablespoons salted butter
1 cup packed light brown sugar
2 large eggs
1/2 teaspoon vanilla
1/2 of a small banana-well mashed (around 50 grams)
3/4 cup sifted flour
1 tablespoons unsweetened natural cocoa powder
1/4 teaspoon salt (if using unsalted butter, add an extra pinch)
1/2 cup semi sweet chocolate chips
1/2 cup lightly toasted chopped pecans or walnuts
Instructions
Preheat oven to 325 degrees F. Spray cooking spray on bottom only of an 8 inch metal pan or line with nonstick foil.
Mix flour, cocoa, and salt together and set aside.
Combine sugar, eggs, and banana in a separate bowl-stir until combined.
Melt butter in a saucepan over medium low heat, then reduce heat to low and add 5 oz and 1 oz of chocolates. Cook and stir over low until smooth. Cool 5 minutes.
Add chocolate to sugar egg/banana mixture-stir until combined.
Stir in dry ingredients until just combined.
Fold in that last 1/2 cup chips and nuts. Bake 35-40 min, check at 35 (Anna's note: I baked a full 45 min)
Cool completely before cutting. Also, I recommend chilling – especially if you are topping with peanut butter.
Notes
Yield: Obviously, this makes 1 8 inch pan. How many brownies you get is up to you. I cut mine into 9 giant squares, but if you chill the brownies before slicing, you should be able to cut the brownies as small as you'd like. You might even want to try cutting 36 squares and serving them in mini cupcake holders.

Peanut Butter Streusel Brownies: Stir together 1/4 cup all-purpose flour, 1 Tbsp. light brown sugar, 1 Tbsp. granulated sugar, 3 tablespoons peanut butter, 1 Tbsp. melted butter until blended and crumbly. Sprinkle peanut butter mixture over batter. Mine were done in 45 minutes.

Peanut Butter Swirl: In a small microwave-safe bowl, mix 2 teaspoons vegetable oil or melted butter with about 1/4 cup smooth peanut butter. Heat for 10-20 seconds to melt the peanut butter. Drop small teaspoonfuls over top of brownie batter, leaving gaps between the puddles, then drag a knife through to make a design.

As an experiment, you could try baking brownies as directed, then make a mixture of 1 tablespoon butter and 1/4 cup peanut butter. Melt and drizzle over baked brownies. Let cool and set, then drizzle some melted chocolate. The last time I tried this I used Dove Smooth, which melted very easily and flowed nicely across the peanut butter.
Add this recipe to ZipList!
Related posts: