My friend Therese sent me this recipe for Peanut Butter and Banana Bread, andI must have been hungry because I went straight to the kitchen and made it.  And this was after I'd cleaned up all the mess from making fudge.
Since the instructions said the banana bread needed to sit for 24 hours, I willed myself not to cut into it immediately and saved it for today's snack. Ah, delayed gratification. It was worth it! This bread is sweet enough to satisfy as dessert, but not overly rich since most of the fat comes from the peanut butter.  Also, there's just enough oil to keep the texture from being off rubbery.
Here's the recipe Therese sent along with a note saying it was adapted from BHG.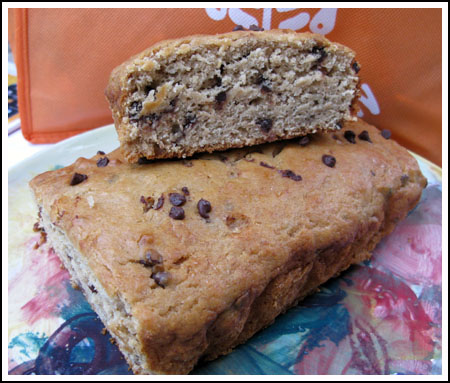 This makes two loaves of Peanut Butter and Banana Bread, but you can easily halve the recipe and make just one.
Peanut Butter and Banana Bread with Chocolate Chips
Peanut Butter and Banana Bread with Chocolate Chips
Ingredients
2 1/2 cups all purpose flour
1/2 cup granulated sugar
1/2 cup packed brown sugar
1 tablespoon baking powder
3/4 teaspoon salt
1/2 teaspoon ground cinnamon
2 ripe large bananas, mashed (1 cup)
1 cup milk
3/4 cup chunky peanut butter
3 Tablespoons vegetable oil or coconut oil
1 teaspoon vanilla
1 egg, slightly beaten
1 cup semi-sweet chocolate chips (or milk -- I used mini chips)
Instructions
Preheat oven to 350 degrees F. Spray two 9x5 inch loaf pans with flour-added cooking spray. Note: I used 9x5 loaf pans, but I think this would be better in smaller loaf pans such as 8x4 inch (1 pound) loaf pans.
Stir flour, sugars, baking powder, salt and cinnamon together in a large mixing bowl.
Combine mashed bananas, milk, peanut butter, oil, vanilla and egg in a second bowl. Add banana mixture to flour mixture, stirring just until combined. Stir in chocolate chips. Pour batter into the two loaf pans and bake on center rack for 50 to 55 minutes or until a toothpick or cake tester inserted in the middle comes out clean.
Cool in pans for 10 minutes. Remove from pans; cool thoroughly on a wire rack. Wrap and store overnight before serving.
Related posts: