I woke up this morning knowing I wanted to make something with cream cheese swirled through it. The problem was, I couldn't choose a recipe. After looking through a bunch and reading reviews, I decided to go with Swirled Pumpkin Cream Cheese Bars from Sunset.
With only 6 tablespoons of butter, the bars were moist and cakey and stiff enough so that you could stack them. I liked that the pumpkin batter wasn't too rich because the cream cheese topping balanced it out.
I modified the recipe a bit by using unsalted butter, adding salt, and a bit of vanilla. If you have some, a bit of orange peel added to the pumpkin might be good as well. Also, if you need to halve this recipe, a 9×9 inch pan works perfectly.
NOTE: If you do not use the pan size indicated (15×10 or half batch in a 9×9), you will probably need to adjust bake time! For instance, if you use a 13×9 inch pan instead of a 15×10 inch pan, you'll have thicker bars which will probably need more time in the oven.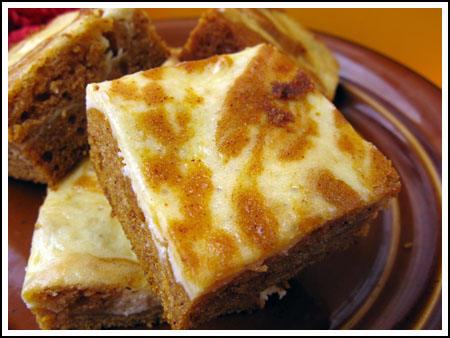 Pumpkin Cream Cheese Swirl Bars
Pumpkin flavored brownies with cream cheese swirled throughout
Ingredients
6 tablespoons melted unsalted butter
1/4 teaspoon salt (omit if using salted butter)
1 1/2 cups granulated sugar (288 grams)
2 large eggs
1 cup canned pumpkin (240 grams)
1/3 cup water
1 3/4 cups all-purpose flour (220 grams)
1 1/2 teaspoons ground cinnamon
1 teaspoon baking soda
1/2 teaspoon baking powder
1/2 teaspoon ground nutmeg
Swirl:
8 oz cream cheese, softened
1/4 cup granulated sugar (48 grams)
1/4 teaspoon vanilla
1 large egg
Instructions
Preheat oven to 350 degrees F. Line a 15x10 inch pan with non-stick foil or just spray with cooking spray.
Pumpkin Batter: Mix together the butter and sugar. With a mixing spoon or whisk, beat in eggs, pumpkin, and water until well blended, scraping down sides of bowl as needed. Mix flour, cinnamon, baking soda, baking powder, and nutmeg together; stir into batter. Spread all but a few tablespoons batter evenly in prepared pan. Reserve the few tablespoons of batter
Swirl: In a second bowl, beat cream cheese, sugar and vanilla until smooth. Add egg and beat just until it's mixed in. Drop tablespoons of cheese mixture over pumpkin batter, then drag a knife through to make marbles. Drop reserved tablespoons of pumpkin batter over top. The reason for this is, there's a lot of white batter, so putting a few tablespoons of pumpkin batter on top gives more of a contrast.
Bake on center rack until pumpkin batter springs back when touched, about 30 minutes. Let cool completely in pan, then chill for an hour or more. Cut into 24 bars.
Related posts: