This morning I realized I didn't have a recipe for Morning Glory Muffins, one of my favorites. To remedy that, I made a quick batch using a recipe from Gold Medal. It's a good one! It calls for brown sugar, carrots, apples, coconut and nuts and it may be the moistest muffin I've ever baked. The brown sugar and fruit helped in that department, but I also think baking the muffins in "jumbo" tins did a lot for the texture due to the slower baking time and bigger center area.
So this recipe was excellent, but I'll still try a few others for comparison. Dawn has a morning glory that looks tempting and Earthbound Farms has one they say is "the original".
Speaking of origins, if you're wondering where the phrase "What's the story morning glory?" came from, it might be hippy slang from the sixties. Seeds of certain types of morning glory are hallucinogenic, and people used to "experiment". When someone came out of a trance, their friends would ask "What's the story morning glory?" I'm not sure how true that is, but I read it on the Internet and it made me laugh.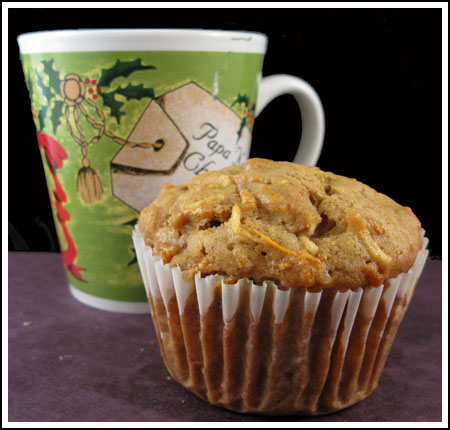 Morning Glory Muffins -- Jumbo Size
Jumbo size muffins made with apples, carrots, coconut and nuts.
Ingredients
2 cups all purpose or white whole wheat flour (9 oz)
2 teaspoons baking soda
1/2 teaspoon salt
1 teaspoons cinnamon
2 large eggs
3/4 cup vegetable oil
1 teaspoon vanilla extract
1 cup brown sugar, lightly packed
1/4 cup milk
1 cup shredded apples
1 ½ cups shredded carrots
1/2 cup shredded sweetened coconut
1/2 cup toasted walnuts or pecans
1/2 cup raisins or dried cranberries (optional)
Instructions
Preheat oven to 350 degrees F. Spray 8 jumbo muffin tins with cooking spray or line with paper liners.
Mix the flour, baking soda, salt and cinnamon together and set aside.
Whisk the eggs, oil, vanilla, sugar and milk together in a mixing bowl. Add the dry ingredients and stir once or twice (batter won't be fully blended) then add the apples, carrots, coconut, nuts and raisins.
Divide evenly between the jumbo tins and bake at 350 F for 32-35 minutes.
Makes 8
Related posts: