I didn't have time to bake from scratch this morning, so I took advantage of some boxed mix and made these browni mix Rocky Road brownies. I wasn't expecting them to be that great, but they were delicious. Or maybe I was just craving that instant brownie mix flavor of my youth? If you have some brownie mix on hand, this a good recipe. If you have a little more time, Martha Stewart's got a similar Rocky Road Brownie from scratch.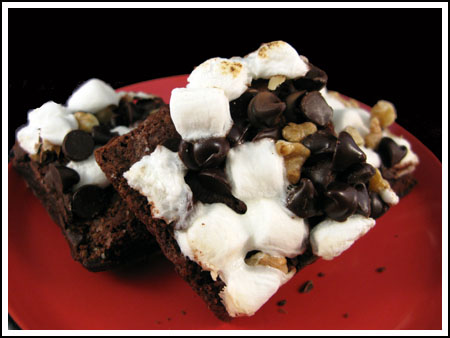 Brownie Mix Rocky Road Brownies
Convenient brownie mix based rocky road brownies
Ingredients
1 box Pillsbury "Family Style" brownies
2 large eggs
1/2 cup vegetable oil
1/4 cup water
2 cups mini marshmallows
2/3 cups toasted and coarsely chopped walnuts
1 1/3 cup semi-sweet or dark chocolate chips
Instructions
Preheat oven to 350 degrees F. Line a 13x9 inch metal pan with foil and spray with cooking spray.
Mix the brownie mix, eggs, oil, and water together in a mixing bowl and beat for 50-60 strokes or until mixed. Pour into pan and set timer for 25 minutes.
While brownies cook, mix together the marshmallows, walnuts and a little less than a cup of the chocolate chips (you'll be saving some for the end).
Pull brownies from the oven after 25 minutes, quickly sprinkle with marshmallow mixture, then return to oven for 5 minutes so that marshmallows can melt**.
Remove from oven. Sprinkle remaining chocolate chips over top of hot brownies and if you'd like, sprinkle on some more walnuts so that everything appears balanced. Let cool at room temperature for about an hour. Transfer to the refrigerator for another hour to set the chips.
Lift the brownies from the pan and cut into 16 large squares.
Notes
**The marshmallows get puffy and melt, but they don't really brown after 5 minutes. It's important not to keep the brownies in the oven too long because you don't want to overcook them. If you really want brown marshmallows you can throw them under the broiler for about a minute after the 5 minutes of oven cooking.
Related posts: