Last year's post-Thanksgiving treat was a brownie made with leftover mashed potatoes. This year, in keeping with the "use-up-the-potatoes" theme (because aren't there enough ways to use leftover turkey? ), I decided to do something with the leftover sweet potato casserole which I make every year for my mother – the only person at the feast who likes sweet potatoes. This bread was a great way to incorporate the leftovers into something all of us would eat. So sweet potato fan or not, I think you will like it.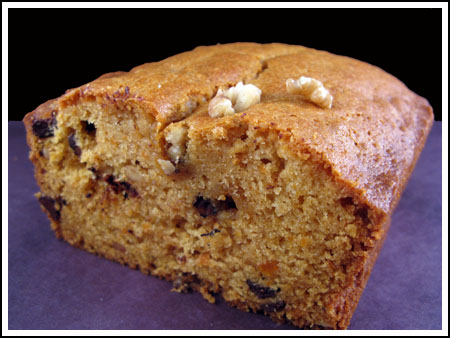 Sweet Potato Chocolate Chip Bread
1 scant cup granulated sugar
1/2 cup vegetable oil
2 large eggs, lightly beaten
2 tablespoons milk
1 teaspoon vanilla extract
1 cup cooked and mashed sweet potatoes or sweet potato casserole (8 oz)
1 1/2 cups plus 2 tablespoons all-purpose flour (7.25 oz)
1 teaspoon baking soda
1/4 teaspoon baking powder
3/4 teaspoon salt
1/2 cup toasted walnut pieces
1/2 cup semi-sweet or dark chocolate chips
Preheat oven to 325 degrees F. Spray a 9×5 inch loaf pan with flour-added cooking spray or grease as usual. You could also use a smaller loaf pan, but might have to adjust bake time.
Stir the sugar, oil, eggs, milk, vanilla and sweet potatoes together in a large mixing bowl.
Stir the flour, baking soda, baking powder and salt together in a second bowl, making sure ingredients are well-mixed. Add the flour mixture, walnuts, and chocolate chips to the sweet potato mixture and stir, without over-beating, just until the ingredients are well mixed.
Pour the batter into the prepared pan and bake for 1 hour and 5 minutes or until a toothpick inserted in the center comes out with moist crumbs. Let the bread cool in the pan for about 20 minutes, then remove from pan.
Related posts: