Fuzz is enjoying the long, leisurely mornings of holiday break. Instead of rushing through a boiled egg before having to brush her teeth and pick and outfit, she gets to lounge around in her pajamas playing Webkinz and eating muffins.
Yesterday I made her a batch of these Banana Chocolate Chip Muffins, but they didn't go over well. She took one bite and apologized for *still* not liking banana bread. What is it with Ginsbergs and bananas? Who doesn't like bananas? So I saved a muffin for myself and gave the rest to a friend.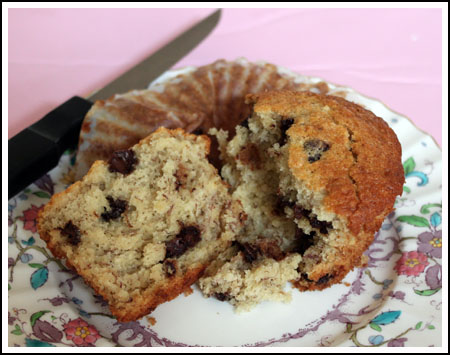 Jumbo Banana Chocolate Chip Muffins
1 stick salted butter or Smart Balance, softened*******
1 scant cup granulated sugar
2 large eggs
2 ripe bananas, mashed
1/4 cup buttermilk
2 cups all-purpose flour (9 oz)
1 1/2 teaspoons baking powder
1 teaspoon baking soda
1 cup semi- sweet chocolate chips
Preheat oven 400 degrees F. Line 6 jumbo muffin tins with liners.
Beat the butter and sugar in a mixing bowl until creamy. Add the eggs and beat for another minute. Stir in the bananas and buttermilk. Mix together the flour, baking powder and soda; gradually add flour mixture to banana mixture, stirring just until blended. Stir in the chocolate chips. Divide batter evenly among muffin tins.
Set muffins on center rack of oven and close door.
REDUCE oven heat to 375 degrees F.
Bake muffins at 375 degrees F for 23-25 minutes or until a toothpick inserted in center comes out with moist crumbs.
Makes 6
*********If using unsalted butter, add 3/8 tsp. salt
Related posts: