A few weeks ago Pillsbury emailed me about their new selection of Sandra Lee inspired cinnamon roll creations. To sweeten the offer, they threw in a free coupon for some cinnamon rolls and a pair of pajama pants. How could I resist?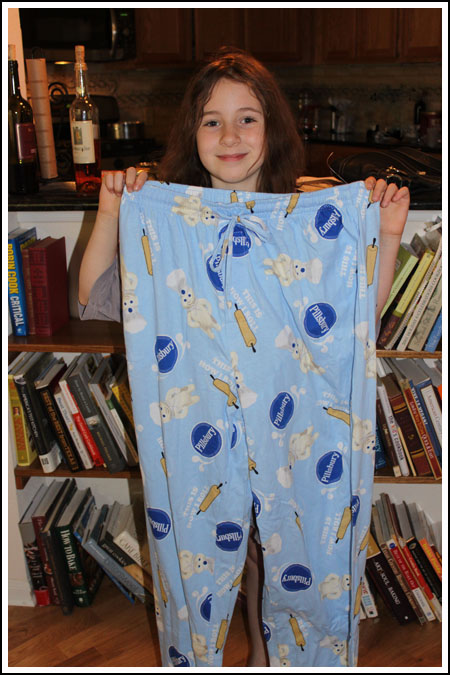 Fuzz loves cinnamon rolls and since the Sandra Lee recipes are easy enough to teach an 8 year old before my first cup of coffee, I told Fuzz she could make the cinnamon rolls herself and that maybe I'd let her wear the pajama pants.
We had one can of cinnamon rolls and four Sandra Lee sweet roll recipes to choose from.
— Apple Walnut Sticky Buns Cinnamon Roll French Toast
— Caramel Pecan Buns
— Peanut Butter Banana Sweet Rolls
— Chocolate Raspberry Cream Cinnamon Rolls
We decided to go with the Caramel Pecan Buns which are basic cinnamon rolls with a quick toasted pecan brown sugar topping.
But first, the cinnamon roll can. Fuzz loves poping open the cans. Even Todd came in to watch (not pictured — too early).
After the rolls were baked, Fuzz toasted the pecans in a little melted butter, then added the brown sugar and water.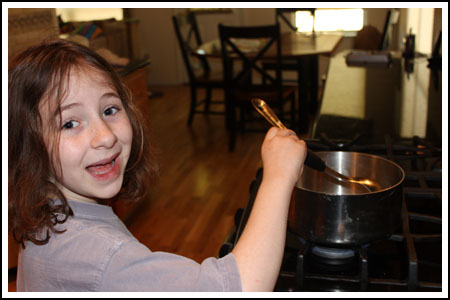 She burnt the pecans a little and the butter & sugar mixture separated, but it was still a nice addition to the cinnamon rolls – especially the pecans.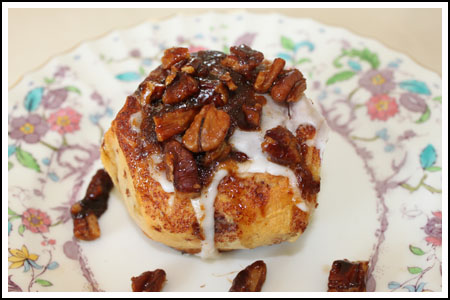 Of the four cinnamon roll recipes, this was good pick. However, there are a ton of other "starts-with-cinnamon-roll-dough" recipes in Pillsbury's database. I've always had a fascination with the pull-aparts and bubble breads, but have never actually tried making one.
Related posts: