Yesterday I made red velvet cupcakes for one of Todd's co-workers. He's taking them to the office today, and I hope she likes them because she's a cupcake connoisseur. Maybe she can help me pick some good recipes for the collection because frankly, I'm not as good at recommending cupcake recipes to people as I am at recommending chocolate chip.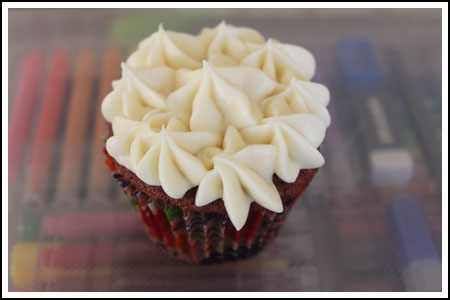 This cupcake recipe was adapted from Martha Stewart and has probably the most oil you'll ever see in one cupcake recipe. Not that it's unreasonable, because it's the same amount of oil as in one of my most popular red velvet cakes. But this is a recipe for people who choose "light and moist" over all.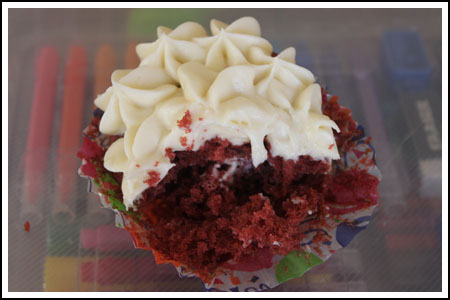 These cupcakes were good, but were almost too soft for me. Part of it's the cake flour and again, part of it's the oil. I'm also not crazy about the murky dark brownish red. I like red cupcakes that pop, so for the next recipe, I will try something different.
Martha Stewart's recipe is here. I made a half batch and typed it up below.
The cream cheese icing is fabulous and I wouldn't change that at all.
A Dozen Red Velvet Cupcakes
1 1/4 cups cake flour (5 oz)
1/2 teaspoon salt (2 ml)
1 Tbsp Dutch process cocoa powder (15 ml)
1/2 tsp salt (2 ml)
3/4 cups granulated sugar (5.25 oz)
3/4 cups vegetable oil (180 ml)
1 large egg, room temp
1/2 teaspoons vanilla extract
1/2 teaspoon red gel paste (I didn't halve this from Martha's)
1/2 cup buttermilk (120 ml)
1 teaspoon vinegar (5 ml)
1/2 tsp baking soda (2 ml)
Preheat oven to 350 degrees F (180 C). Line 12 cupcake cups with paper liners.
Sift flour, salt and cocoa powder into a bowl and set aside.
With a hand-held electric mixer or a whisk, beat the sugar, oil, egg and vanilla together for about 2 minutes or until pale and light. Beat in the red gel coloring.
Add the flour mixture and the buttermilk to the batter alternately, stirring by hand and beginning and ending with flour.
Mix the vinegar and baking soda together in a large cup (mixture will foam up), then stir that into the batter.
Divide batter evenly among cupcake pans. Bake on center rack for 20 minutes. Let cool and make icing.
Cream Cheese Icing
8 oz. cream cheese, room temperature (regular brick style, not light or tub)
4 oz butter (unsalted) plus a pinch of salt
2 cups powdered sugar
1/2 tablespoon vanilla
1-2 teaspoons lemon juice or to taste
Beat butter and cream cheese together. Slowly add powdered sugar and beat until fluffy. Beat in vanilla and lemon juice.
Related posts: