I'm bumping this old recipe up for my friend Shirley because it's a Neapolitan Bundt Cake kind of day. It's surprisingly good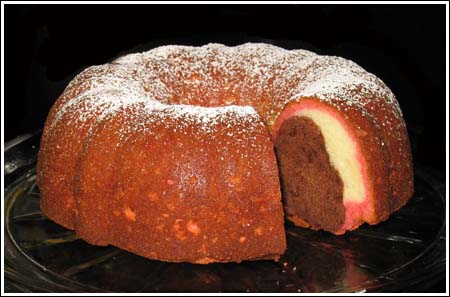 I believe this is an old Bake-Off recipe, but am still researching to find out whether that is true.
Neapolitan Bundt Cake

1 (8 ounce) package cream cheese, softened
4 large eggs, room temp
1 (18 1/4 ounce) package white cake mix
3/4 cup milk
3/4 cup double chocolate-flavor Nestle Nesquik powder
3/4 cup strawberry-flavor Nestle Nesquik powder
Powdered sugar for dusting

Preheat oven to 350 degrees F and spray a 10 inch Bundt pan with flour-added cooking spray.

Beat cream cheese and eggs in large mixing bowl until smooth. On low speed or by hand, stir cake mix and milk into batter alternately. When mixed, beat on high speed for two minutes scraping sides of bowl.

Remove 2 cups batter and place in separate bowl; stir in chocolate Nesquik.

Remove 2 cups white cake batter and place in separate bowl; stir in strawberry Nesquik.

Spoon strawberry batter into prepared pan; tap pan on counter lightly. Spoon white batter over strawberry batter covering it completely, and then spoon chocolate batter over white batter.

Bake on center oven rack for 55 to 65 minutes or until wooden pick inserted into cake comes out clean. Cool in pan on wire rack for 45 minutes. Loosen edges with butter knife if needed; invert onto wire rack to cool completely. Sprinkle with powdered sugar.
Related posts: