Keeping with the theme of Aunt Ann's Chocolate Sundae Cookies, Chocolate Covered Cherry Cookies, Chocolate Marshmallow Pillows and Martha Stewart's "Chocolate Surprise Cookies", here's a banana version of one of my favorite cookie combos – soft cookie, marshmallow and rich chocolate glaze. As the lone banana lover in the house, I haven't gotten a lot of quality feedback on these, but I think they're good. I tried with and without a few chocolate chips in the banana cookie (pictured = "with") and liked the cookies better sans chips.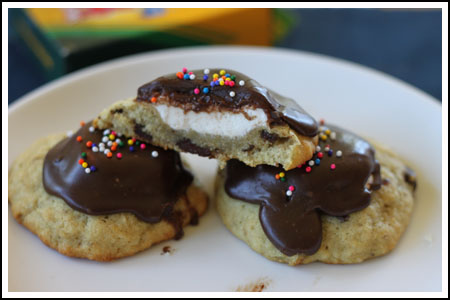 Also, I find with these cookies and with the chocolate version (which I also made)….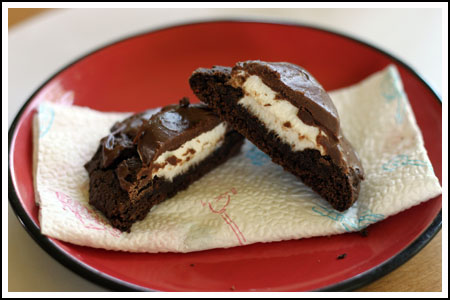 …I have to assemble the cookies, take a break from them for a while, then enjoy one many hours later after they've set. I have the same issue with cupcakes and other things that require a lot of assembly. By the time I'm finished baking, frosting, and decorating, I'm tired of the cookie. Does anyone else run into that problem? Anyway, they were good and even better later in the day and on day 2.
Below are both recipes – banana first, followed by Martha Stewart's version of the chocolate cookies.  
Chocolate-Marshmallow-Banana Surprise Cookies

2 cups all purpose flour (9 oz)
1 teaspoon baking soda
1 stick (4 oz) butter, room temperature – salted**
1/2 teaspoon vanilla
3/4 cup plus 2 tablespoons granulated sugar
2 ripe bananas
1 large egg, room temperature
10 marshmallows, cut in half or use 20 marshmallows and just trim them a little**

Frosting
3 cups confectioners' sugar
6 tablespoons salted butter
1/4 cup plus 2 teaspoons unsweetened natural cocoa powder
1/4 cup whole milk or use lowfat milk with a little cream mixed in
1/4 teaspoon vanilla extract

Preheat oven to 350 degrees F. Have ready two cookie sheets lined with parchment.

Stir together flour and baking soda and set aside.

Using high speed of an electric mixer, cream the butter, vanilla and sugar for about 3 minutes. Add the banana and beat it with the butter/sugar mixture until it's fully mashed. Beat in the egg. Using lowest speed of mixer or by hand, stir in the flour mixture. Drop by heaping tablespoons onto cookie sheets and bake at 350° F for about 11 minutes or until cookies just start to appear set. Remove pan from oven and press a marshmallow half into center of each cookie. Return to oven and bake for 2 to 2 ½ minutes or until marshmallow begins to melt (puffs). Remove from oven and let cool completely. Prepare frosting.

Prepare frosting. Put the confectioners' sugar in a mixing bowl. In a small saucepan or in a large microwave-safe measuring cup, melt the butter and cocoa. Pour the melted butter/cocoa mixture into the sugar and stir well (I did it while it was hot), then stir in the milk and vanilla, stirring until smooth. Spread about 1 tablespoon of frosting over each marshmallow, starting in the center and continuing outward until marshmallow is covered.

Makes 20 cookies

**If using unsalted butter, add 1/4 teaspoon of salt to batter
***I like a lot of marshmallow in my cookie, so instead of halving the marshmallows I use 20 marshmallow and cut about 1/3 of it off for appearance's sake.

Chocolate Marshmallow Surprise Cookies

1 3/4 cups all-purpose flour (8 oz)
3/4 cup natural unsweetened cocoa powder
1/2 teaspoon baking soda
1/2 teaspoon salt
1/2 cup (1 stick) unsalted butter, softened
1 cup granulated sugar
1 large egg
1/2 cup whole milk
1 teaspoon vanilla extract
12 marshmallows (large size), cut in half or 24 trimmed

Frosting
3 cups confectioners' sugar
6 tablespoons unsalted butter, melted
1/4 cup plus 2 teaspoons unsweetened cocoa powder
1/4 cup whole milk
1/4 teaspoon vanilla extract

Preheat oven to 375 degrees.

Mix the flour, cocoa powder, baking soda, and salt together and set aside.

In the bowl of a stand mixer fitted with the paddle attachment, cream the butter and sugar until light and fluffy, about 2 minutes. Add egg, milk, and vanilla, and beat until well combined. Add reserved flour mixture; mix on low speed or by hand until combined.

Using a tablespoon or 1 3/4-inch ice cream scoop, drop dough onto ungreased or parchment lined baking sheets, about 2 inches apart. Bake until cookies begin to spread and become firm, 8-10 minutes (longer if necessary).
Remove from oven, and place a marshmallow, cut-side down, in the center of each cookie, pressing down slightly. Return to oven, and continue baking until marshmallows begins to melt, 2 to 2 1/2 minutes. Transfer cookies to a wire rack to cool completely before frosting.

Prepare frosting. Put the confectioners' sugar in a bowl. In a small saucepan or in a large microwave-safe measuring cup, melt the butter and cocoa. Pour the melted butter/cocoa mixture into the sugar and stir well (I did it while it was hot), then stir in the milk and vanilla, stirring until smooth.
Spread about 1 tablespoon of frosting over each marshmallow, starting in the center and continuing outward until marshmallow is covered.
Makes about 24 cookies
Related posts: