Moving out of a third floor apartment takes energy, so this week I was happy to have a few boxes of Nature Valley Granola Thins on hand. The company sent them to us for a taste test, and they are terrific.  They kind of remind me of my favorite British cookie, Hob Nobs, but thinner, lighter, square and coated with either dark chocolate or peanut butter. I also like how they're individually wrapped, so I can carry them around in my purse. They've been a real-life saver and thanks to the Texas sun, I've learned they are delicious when melted and would probably make awesome S'mores. Hmmmm. I need to get on that, but first I want to offer you an opportunity at a chance to win some Nature Valley Granola Thins in a gift basket.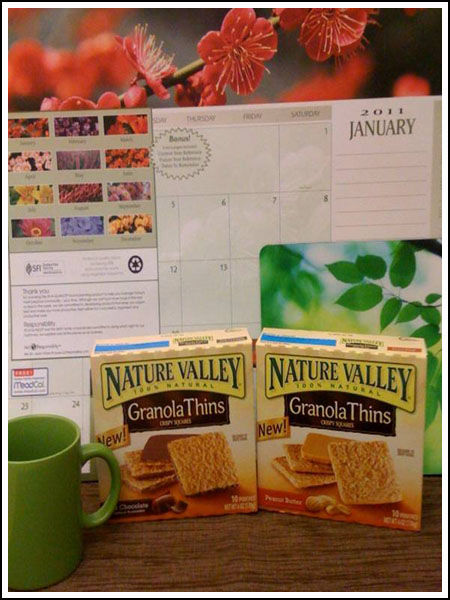 If you'd like to win a Nature themed gift basket with some Granola Thins, a mug, mouse pad and desk calendar (as pictured above), leave me a comment telling me where you go to get in touch with nature. It can be your backyard, a far away place, a park….you tell me. Fuzz and I will pick the winner at random on Thursday July 15th. Cut-off point is Wednesday–midnight July 14th. Good luck!
P.S. I really enjoy reading your comments in these little giveaways so even if you don't win the basket, thanks for sharing.
Related posts: