Congratulations to Lori H. who won the Toll House giveaway!
Lori's name was drawn randomly in the comment section where I asked readers to pick a recipe off the Toll House site that would be fun to make with kids. I enjoyed reading everyone's picks and have marked a few down for future baking sessions, including pumpkin bread, which is the recipe Lori chose and which is definitely a great recipe for kids.
For today's recipe, I chose something a little sweeter and had a baking session of my own. This is a half batch version of a recipe called "Jumbo 3 Chip Cookies" which would be a great recipe to make with kids. I didn't have any milk chocolate chips, so I used a trio of semi-sweet, butterscotch and white chips. And because the dough was so sturdy, I figured a handful of mini Oreos might work well too. I'm sure the kids can think of even more creative additions.
This version below makes 12 big cookies, but if you use the Jumbo 3 Chip Cookie recipe from Toll House, you'll get 24 – just enough to share with the class.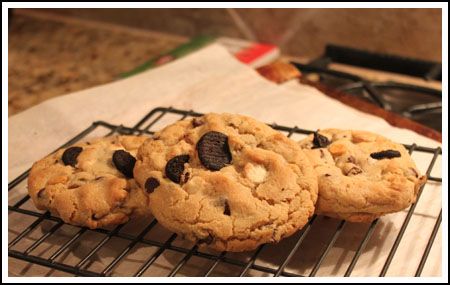 Jumbo 3 Chip Cookies
2 cups all-purpose flour (I used 9.5 oz)
1/2 teaspoon baking powder
1/2 teaspoon baking soda
1 1/2 sticks (12 T.) unsalted butter, softened**
1/2 teaspoon salt (omit if using salted butter)
1/2 cup plus 2 tablespoons granulated sugar
1/2 cup plus 2 tablespoons packed brown sugar
1 large egg
1/2 tablespoon vanilla extact
1/2 cup NESTLÉ® TOLL HOUSE® Milk Chocolate Morsels or Butterscotch Morsels
1/2 cup NESTLÉ® TOLL HOUSE® Semi-Sweet Chocolate Morsels
1/4 cup NESTLÉ® TOLL HOUSE® Premier White Morsels
1/2 cup chopped nuts (optional)
Preheat oven to 375 degrees F.
Combine flour, baking powder and baking soda in medium bowl. Beat butter, salt (if using), granulated sugar and brown sugar in large mixer bowl until creamy.
Reduce mixer speed to low and beat in egg and vanilla. Beat in egg and vanilla. Gradually stir in flour mixture. Stir in morsels and nuts (if using). Drop dough by level 1/4-cup measure 2 inches apart onto ungreased baking sheets or if not baking right away, chill the dough.
Bake for 12 to 14 minutes or until light golden brown. Cool on baking sheets for 2 minutes; remove to wire racks to cool completely.
Related posts: