Happy October!
To celebrate the beginning of my favorite time of the year, I'm giving away some coupons for Ghirardelli Luxe Milk Chocolate.
Of course (ahem, cough) I really needed to "quality-check" the chocolate before giving out samples, and asked Ghirardelli if I could have a couple of free coupons sent to Austin. They obliged, and I am happy to report that the chocolate passed inspection with flying colors. Fuzz, my assistant chocolate taster, was especially fond of it and her enthusiasm made me realize that as a baker I may have been purchasing too much of the dark and bittersweet types and forgetting just how happy younger palates are with smooth and creamy milk. And I enjoyed them quite a bit as well.  While I did end up using them in a dessert (more on that later), Luxe milk chocolates were a pleasure to eat right out of the bag.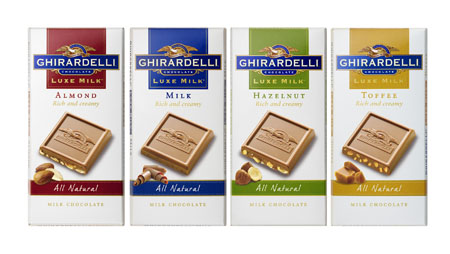 Speaking of bags, we found three flavors in bags with individually wrapped squares — Almond, Krispy, and Hazelnut.  Our local H.E.B. had the other two flavors as well (Toffee and Milk), but we could only find those in bars. 
First, we tried the regular Luxe Milk in bar form.   It was definitely smoother than other milk chocolates, and the flavor was good too — very fresh, not waxy, and with a clean dairy taste.
Next up was the Hazelnut, which came in the aforementioned individually wrapped squares. Again, smooth chocolate, but with loads of nuts. I enjoyed the hazelnut quite a bit, but I will be honest and tell you that I preffered the Milk over the Hazelnut.  The chocolate was so good that I didn't appreciate the nuts displacing it, but nuts are nutritious so I like to think they make the squares good for the body as well as the soul.  But boy, the milk chocolate was good.
I guess my only comment/suggestion for Ghirardelli is that I hope they start selling the Luxe Milk in individually wrapped squares so I can carry them around with me.
If you try the chocolate, let me know what you think.  Meanwhile, if you want to try it FREE, leave me a comment telling me what type of situation puts you in the mood for chocolate.  My situation is that I have a pulse.  Okay, just kidding.  My situation is that I need it when I'm about to board an airplane.  I can't get on a plane without chocolate.
If your comment is picked at random, you will be sent some coupons for free bags and bars of chocolate plus a couple of $1.00 off coupons.  I'll pick the random comment tomorrow morning at 10 AM CST (October 2), so that's the deadline.
Related posts: