Who wants an extra hour of sleep when there are chocolate waffles on the table?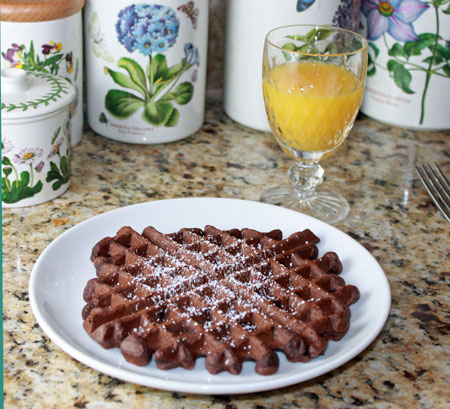 Thanks to Alton Brown for today's breakfast. His chocolate waffle recipe was a bit hit. As you can see by the photo, the edges were a bit well done due to my attempt to make them crisp. I don't think these waffles were meant to be super crispy right out of the waffle maker, but it wasn't really a big deal. They weren't what I'd call soggy and they had a delicious, not-too-sweet chocolate flavor. As for the toppings, if you like chocolate and maple then a little syrup might be okay, but my tasters wanted strawberries and whipped cream.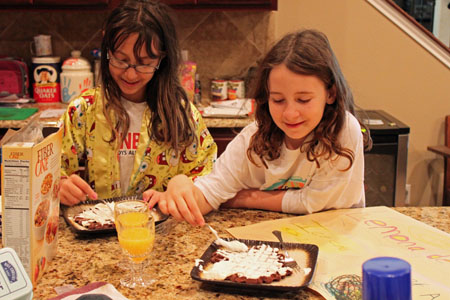 Since we don't have a lot of people to feed and I'm too busy trying new waffle recipes to freeze these, I scaled down Alton's recipe to make 3 good size waffles. I also used vegetable oil in place of melted butter. The full recipe is on Food TV (link above) and this is the scaled down version.
Double Chocolate Waffles for Two or Three

1/2 cup flour (2.35 oz)
1 tablespoons sugar
3 tablespoons cocoa powder
3/8 teaspoon baking powder
3/8 teaspoon salt
1/8 teaspoon baking soda
1 egg, lightly beaten
1 1/2 tablespoons vegetable oil or cooled melted butter
3/8 teaspoon pure vanilla extract
5 ounces buttermilk, room temperature
1/4 cup chocolate chips
Oil or vegetable spray for waffle iron

Preheat waffle iron according to manufacturer's directions.

Mix the flour, sugar, cocoa powder, baking powder, salt, and baking soda together in a bowl.

In another bowl or in a large measuring cup, beat the egg. Stir in the oil, vanilla, and buttermilk. Add the wet ingredients to the dry and stir in the chocolate chips just until combined. Allow to rest for 5 minutes.
Pour ½ cup of waffle batter (or amount recommended by manufacturer of your waffle iron – mine's a Cuisinart) onto the center of the iron. Close the iron top and cook until the waffle is crispy on both sides and is easily removed from iron. Serve immediately or keep warm in a 200 degree F oven until ready to serve
Related posts: