This week I'm heading to New York, where I and 9 other bloggers will make holiday desserts in a friendly cook-off hosted by I Can't Believe It's Not Butter. I'll keep you posted on the big event, but I'm looking forward to seeing what the competition is up to! As for my creation, it's called "Profiteroles with Peppermint Ice Cream and Chocolate Ganache" and the choux pastry is made with I Can't Believe It's Not Butter. I wasn't sure how the product would work in choux, but the results were very good.  The buttery flavor really came through in the profiteroles, which are one of my all-time favorite treats.  I like them filled with cream or ice cream, and in this case I think the peppermint gives them a nice holiday theme.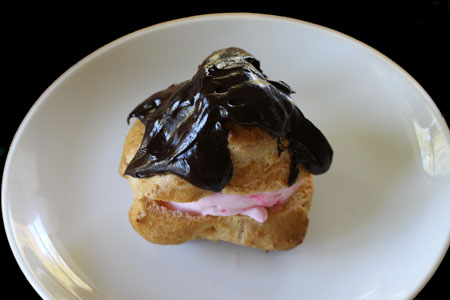 Here's the puff itself.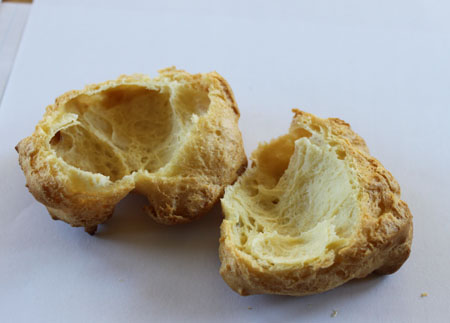 It's going to be fun baking up a batch of these in the I Can't Believe it's Not Butter Test Kitchen, and for those of you interested in trying the recipe at home, I've typed it up below.
But first, here's your chance to win a special treat from I Can't Believe It's Not Butter. I apologize to my non-US readers who I love hearing from, but this one's only open to those in the US.
Prize Package Includes:
— Caphlon Contemporary Non Stick Shallow Sauce Pan
— Antique White Dinnerware Rectangular Serving Platter
— A Non Stick Baking Sheet
— Bamboo 14" Wooden Spoon
For your chance at winning, just write a comment telling me your favorite holiday dessert and who usually makes it.
I'll close the contest Friday November 12 at 8:00 AM EST, pick a random comment using the random number generator, and announce the winner later that day.
Good Luck!
P.S. After you enter here, increase your odds by entering at some of the other bloggers' sites. All of the prize packages are different and tailored to each cook-off entry.
P.P.S.  Thanks for the comments!!  The number of comments we get plays into a small part of the overall scoring of the contest.  Gee, why the heck am I sending you to the other blogs then ;). Just kidding.  Have fun, and good luck!    I'm really looking forward to reporting back to you all about the test kitchen tour and meeting the other great baking enthusiasts.
Aly-tude
Fake Ginger
Disclosure: The giveaway prizes are provided by I Can't Believe It's Not Butter and my Cook-Off trip expenses to NYC are being paid for by I Can't Believe It's Not Butter.
Peppermint Ice Cream Profiteroles with Chocolate Ganache

Profiteroles
1/2 cup flour, fluffed and scooped
1/8 teaspoon salt
4 tablespoons I Can't Believe it's Not Butter Baking Stick
1/2 cup warm water
2 large eggs, room temperature

Sauce
3 oz excellent quality semi- sweet chocolate, chopped
6 tablespoons heavy cream
2 teaspoons of I Can't Believe it's Not Butter Butter Baking Stick
¼ teaspoon vanilla extract

6 scoops peppermint or mint chocolate chip ice cream (or whatever YOU like)

Preheat oven to 450 degrees F. Line a baking sheet with parchment paper.

Mix together the flour and salt; set aside. In a 3 quart saucepan, heat the I Can't Believe It's Not Butter and water just to a boil. Add the flour mixture and stir over medium heat for about 1-2 minutes or until mixture forms a ball in pan. After mixture forms a ball, continue mixing it for another minute, pushing it around in the pan. Remove from heat and let cool for 10-15 minutes, stirring occasionally. Add eggs one at a time, beating well with the mixing spoon after each egg is added.

Using a heaping tablespoon, drop 6 equal size portions of dough onto a parchment lined or lightly greased cookie sheet spacing about 3 inches apart. Bake on center rack for about 22 minutes or until puffs are golden. Remove from oven. Turn off oven and let it cool down for about 5 minutes. Meanwhile, using a toothpick, poke a small hole in the bottom of each pastry puff. Return puffs to cookie sheet and place puffs in closed "off" oven for 10 minutes to dry. Remove from oven and let cool completely before filling.

Sauce: Put the chopped chocolate in a bowl. In a small saucepan, heat the cream and I Can't Believe It's Not Butter until it just begins to simmer. Pour over chocolate and stir until smooth. Stir in the vanilla.

Assemble profiteroles. Split each profiterole horizontally down the center and fill with a scoop of ice cream. Drizzle warm or slightly cooled ganache over top.

Serves 6
Notes:
If you're intimidated by pastry, there's nothing that will get your confidence up like a batch of choux. It's simple! For this batch, I made the choux with I Can't Believe It's Not Butter and got some of the best results ever.
Like hot lava cakes, profiteroles are impressive and perfect for making ahead. You can bake the puffs before dinner and have them cooled and ready to go for dessert, or you can make them a week ahead, freeze them, then crisp them for 5 minutes in a 375 oven when ready to use. You can also make the ganache ahead of time. Just chill it until ready to use, the put it in a stainless steel bowl and set the bowl over but not touching barely simmering water until the ganache softens.
Related posts: