Baking these brownies made me think of all the good things about Vermont —  Teddy Bears, maple syrup, Ben & Jerry's, Gesine, King Arthur, and Lake Champlain Chocolate, who were nice enough to send us a sample of their Lake Champlain Organic Dutch Chocolate Cocoa.  Because I wanted to use it in something where good cocoa powder would really shine, I decided to make King Arthur's Whole Grain Brownies.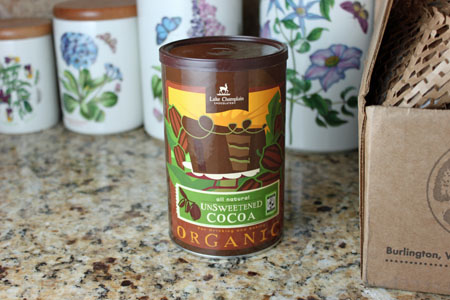 I'd had my eye on this recipe for a while, but I'm an impulsive baker who likes instant gratification and makes things I can eat right away or at least within a few hours. This is one of those recipes that should sit 24 hours before you cut into it so. In this case, so the bran can soften and the flavor of wheat won't be quite so strong. So I waited until late in the day yesterday, baked up half a batch using an 8 inch square pan, chilled the brownies overnight and cut into them this afternoon for my lunchtime dessert.  The first thing I noticed was not the flavor of wheat, but the almost fruity, rich, taste of the cocoa powder.  As for the wheat, I could barely taste it even though I used freshly ground regular wheat instead of white whole wheat. What I did detect was a very slight hint of nuttiness which was perfect with the coffee and chocolate. And finally, the texture was just how I'd hoped it would be. The brownies were solid enough so that you could cut them neatly and wrap them up for a lunch box or bake sale, but fudgy enough so that when you squished them together with your fingertips, the texture smoothed out. In short, another great use for good cocoa powder and whole wheat flour.
The full version of King Arthur's Whole Grain Brownies is on their site. If you're interested in making the half-batch, here's how I did it.  I didn't change their technique at all, I just halved everything, used a smaller pan and cut a few minutes off the baking time.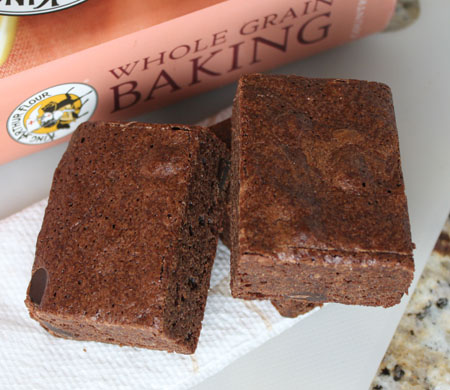 King Arthur Whole Grain Brownies

4 oz (1 stick) unsalted butter, softened
1 cup light brown sugar, tightly packed 7 oz
6 tablespoons Dutch-process cocoa
1/2 teaspoon salt
1/2 teaspoon baking powder
1/2 teaspoon espresso powder, optional but recommended
1/2 tablespoon vanilla extract
2 large eggs
3/4 cups whole wheat flour** (3.1 oz) — KA used white whole wheat
1 cup semisweet chocolate chips

Preheat the oven to 350°F. Line an 8 inch square metal pan with foil and spray the bottom with cooking spray.

In a medium-sized microwave-safe bowl, or in a saucepan set over low heat, melt the butter, then add the sugar and stir to combine.

Return the mixture to the heat (or microwave) briefly just till it's hot (about 110°F to 120°F) but not bubbling. Don't worry if it separates; just stir it briefly to recombine a bit. Heating this mixture a second time will dissolve more of the sugar, which will yield a shiny top crust on your brownies.   Transfer the mixture to a bowl, and stir in the cocoa, salt, baking powder, espresso powder if using, and vanilla.

Add the eggs, stirring till smooth. Then add the flour and chips, again stirring till smooth. Spoon the batter into the prepared pan.

Bake the brownies for 27-30 minutes, until a cake tester or sharp knife poked into the center reveals wet crumbs, but not raw batter. The brownies should feel set on the edges and in the center. Remove them from the oven, and cool completely on a rack.  Cover and let sit overnight (I kept mine in the refrigerator, but served at room temp) before cutting and serving.

Yield: 1 dozen
Related posts: