Happy Thanksgiving!
I'm in the midst of cooking the family meal – turkey, gravy, stuffing, corn, mashed potatoes, sweet potatoes, cranberry sauce, rolls, pecan pie and my mom's birthday cake, since her birthday falls right around Thanksgiving. It's been a fun day and I just wanted to say I'm thankful for all of you who leave comments, don't leave comments but read, share recipes, review recipes or email me with bakery and recipe recommendations. I'm also thankful for those days when I can help someone out in a small way even if it's just by recommending or sharing a good recipe.
On a totally separate subject, we've been out of town for the past 3 days which is why a few comments have gone unanswered. Todd and I took a quick trip pre-Thanksgiving trip Vegas. We tried the Vdara Hotel, Todd English's Pub, Cut Steakhouse, Shibuya and best of all, some macarons from Bouchon. Until I make it to Paris, those have to be the holy grail of macarons. I'll be posting some Las Vegas reviews on Yelp and Trip Advisor and may just link to those in the future.
Okay, back to the kitchen. Here's what it looked like an hour ago. I've tidied up a little and am about to start the turkey (we eat late).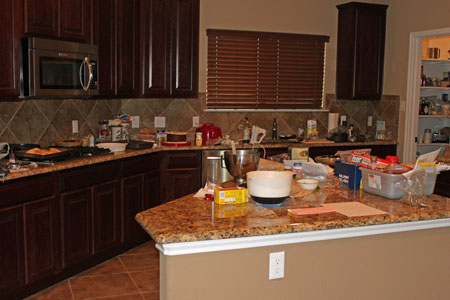 Related posts: