Imagine traveling the world and tasting 150 cakes representing different countries. Better yet, imagine doing it with your favorite professor who has a passion for baking, a genuine interest in world cultures, and an entertaining and informative way of conveying what she knows. In A World of Cake, Krystina Castella takes us on this journey with the goal of redefining and contemporizing the word "cake" for today's world.
Staring with a brief history of cake and methods of making it, the book moves on to talk about how cake has influenced culture and played a role in tradition. Along the way are plenty of recipes. color photos, interesting facts and anecdotes and even cake family trees.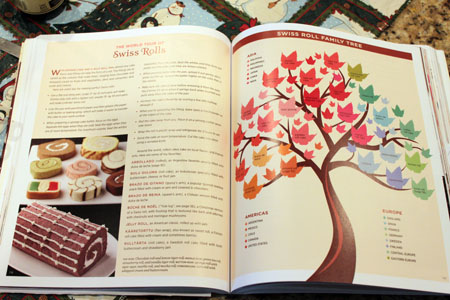 What I like best about the book is that it covers the cakes an intrepid baker might already know about such as Moon Cakes, Honey Cakes, Tres Leches and Stollen, but it also introduces some cakes most Americans have never heard of. My favorite example of that is the Marta Rocha cake, a Brazilian cake made in honor of a runner-up in the Ms. Universe pageant who lost because her hips were too wide. (?!?!)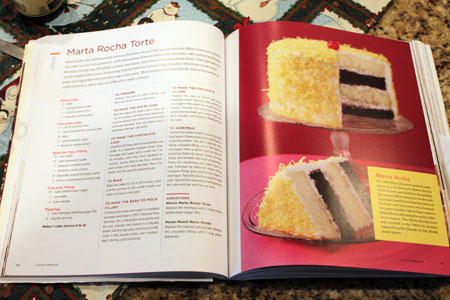 The recipes aren't necessarily complicated, but they do take some time. Everything is scratch, but the recipes are easy to follow so if you read closely and schedule yourself accordingly (for instance, you may want to make lemon curd a day ahead and or get a jump on the cake by making frosting first), you'll find a rhythm.  Most of the frosting and fillings are Krystina's favorite tested recipes. They're all at the back of the book, so a recipe may give you ingredients for the cake, but say "turn to page 224" for the filling or frosting.
I'm really enjoying this book and learn something new every time I open it.  Plus, the recipes I've tried so far (peanut frosting, Kolaches and Black Forest Cake) have been good.
Of course I'd like to hear what you think, and so here's a chance to get a copy of your own from Storey Publishing. For a chance at a free copy of the book, write a comment telling me your family's favorite cake. I will pick a winner on Saturday morning. Deadline for entries is this Friday at midnight.
Related posts: