I get very attached to my cookware and have a hard time throwing it out when it warps or rusts.  Lately, I've been putting  old cookie sheets on a shelf in the garage and telling myself I'll eventually throw them away.  I haven't tossed a single pan, but I've made a pledge to start buying higher quality, heavy-duty cookware.  Which is not to say my old stuff wasn't well-made.  Or was it?  Some of it's so scratched up I can't tell what brand it is.  Oh well.
Given my goal of upgrading my cookware (slowly and expensively), I was pleased to receive an email from Frieling USA asking if I'd like to try one of their pans. Specifically, the Zenker Tannenbaum pan — a German-made pan with molds that let you make stars or Christmas trees.
My pan arrived in the mail about a month ago, but I didn't give it a test run until after Thanksgiving when I was in more of a Christmas-y mood. Or sort of. I was actually in kind of a bad mood when I took it out the pan and was hoping a little baking therapy would lift my spirits.
For the first round, I used Betty Crocker sugar cookie mix. While Frieling does have a good looking scratch Tannenbaum cookie recipe on their site, I didn't feel like measuring.
I formed the dough and (messily) glopped it into the pan. Even though I was working fast and not putting a lot of effort into being neat…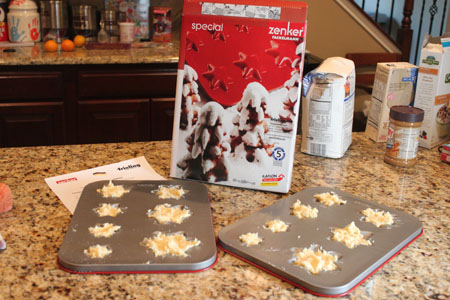 …the cookies spread into the molds and out popped as perfect little stars. If you're not into trees, you could stop here and just decorate the stars.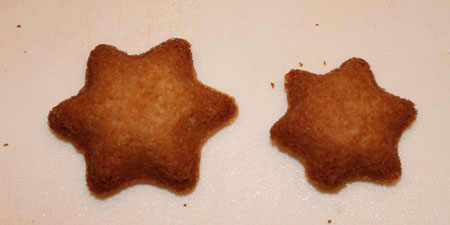 Success with the stars cheered me up a bit and I continued on with the Christmas trees. The Zenker pans come with skewers so you can skewer the stars together to make trees that won't fall over. I skipped the skewers and just stacked the cookies so they'd be easier for people to pick off and eat. Watch out for high winds!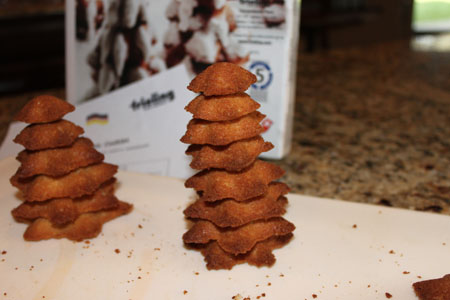 Now I was feeling pretty good — not good enough to make royal icing and dye it green, which is one way you can decorate the trees, but good enough to sift some powdered sugar over the trees. Wouldn't these make a fine addition to the yard of a gingerbread house? I thought mine looked pretty good, but imagine what someone with fine motor skills and patience could do!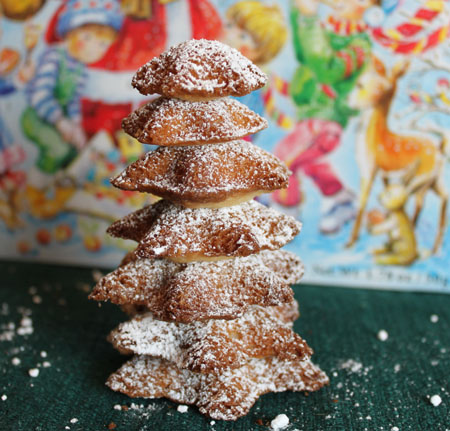 If you'd like to order a Tannenbaum pan for yourself or a gift, you can find them on the Frieling Bakeware area of Frieling's website.  They also have some other nice pans.  REALLY nice. There's a glass-bottom springform, a tiered springform, a 13×9 inch springform and a super duper cake layer slicing kit Rose Beranbaum recommends. I'm putting that on my Christmas list right now.
Related posts: