Congratulations to Jenny Lee who won my last giveaway. And good news! Here's another chance to win some fine quality chocolate. This time, from Pennsylvania's family-run chocolate company Sarris Candies.
As the story goes, Frank Sarris was in love with Athena and gave her some chocolate. She was so happy that Frank wanted to keep her that way and decided he could make chocolate that was even better. From that point on, he began making chocolate in the basement for family and friends. Word spread and he found a local market. Pretty soon, Frank and Athena were married and Sarris Candies was born.  By 1963, they outgrew the basement, the business kept growing, and family members pitched in to build a business that is now a Canonsburg, PA landmark. The Sarris Chocolate Factory and Ice Cream Parlour fill the area the size of a football field with chocolate, penny candy, ice cream and plush toys.
Their on-line presence is growing as well, with a fun-to-browse mail-order site and Sarris Candy Recipe page with recipes from Candace Sarris, who loves to bake.
After reading Yelp reviews and doing a little research on Sarris, I'm kind of sad I didn't pick any up while I was in PA. However, I did get a chance to host this giveaway and am happy to say Sarris is offering a lucky reader
— a 1 pound deluxe assortment AND
— 8 oz of milk chocolate pretzels
For a chance at the giveaway, visit the Sarris Candies web page, then come back and tell me one thing you would like to receive as a gift (no need to add a link to it).
Me, I would like my own personal chocolate fountain. I had no idea you could buy small ones and I think that would really impress people who came over for dinner.
The deadline for this giveaway is this Friday (Dec. 17th) at midnight.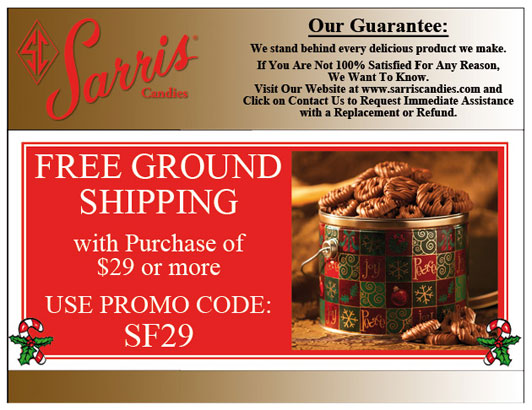 Related posts: