One nice thing about the cool weather is that it has motivated me to cook. Baking has always been a pleasure, but this summer it got to a point where cooking the nightly meal was a big chore and I can mark 2010 as the year I introduced Todd to bottled marinara. We probably saved money having so many pasta nights, but I was kind of sad that cooking, a hobby I'd once enjoyed, was no longer fun.
Things picked up around late November when the temperature dropped and I found some culinary inspiration through like-minded bloggers. I also pulled out some of my old cookbooks, and ordered a few new ones. One new book I've grown particularly fond of and which I can see myself cooking all the way through (except for the fish chapter, of course) is The Lazy Gourmet.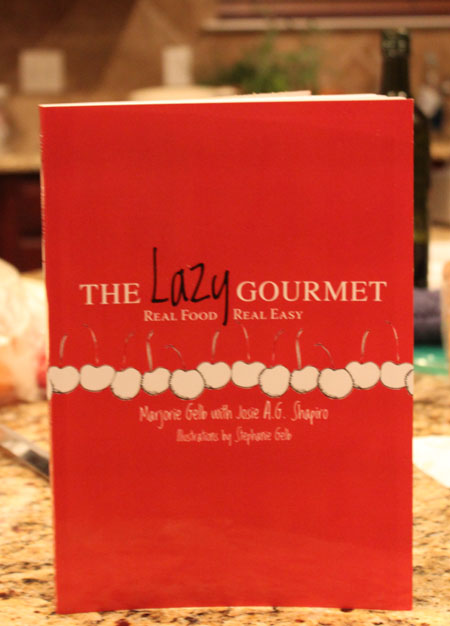 The Lazy Gourmet was written by Marjorie Gelb and her daughter, Josie, whom I've known for years after meeting through a shared interest in cooking contests. What I never realized about Josie was what an amazing cook her mom was, so when I heard they'd finally put their family recipes into a book, I ordered a copy right away.
Josie's mom trained at Le Cordon Bleu in Paris, but she was a practicing lawyer who came home and made dinner every night for her family. Marjorie's idea of "lazy" is a little different than mine and doesn't involve anything close to bottled marinara, but the encouraging (without being sappy) intros and the anecdotes and tips have kept me engaged in the book and eager try the recipe that worked for their family's various situations. There are no food photos, jut sketches and little illustrations, but the writing makes up for that. In some ways, it reminds me of an Ann Hodgman book, but different because it's not Ann's family, it's Marjorie's.
This recipe was last night's dinner. I'm kicking myself for not taking a photo, but will add one next time. Maybe it stems from her French culinary training, but some of Marjorie's sauces use a lot of butter. The thing with sauces is you can use as much as you want and I've found I'd rather make a sauce with lots of flavor-carrying fat and use a little of it then make a sauce that has half the butter and use twice as much. Not that it's the case with every lightened recipe because there are plenty of good ones, but this recipe isn't that rich if you just use a little bit of the sauce and ignore the part about using bread to soak up the rest. I left a lot of sauce in the pan. Speaking of which, I used a my trusty Viking Saute Pan
which is perfect for cooking bone-in chicken from start to finish over the stove (and everything else in the world that calls for a skillet!). I love that pan.

Chicken with Sage and Wine

4 chicken breast, on the bone, skin on
Salt and freshly ground pepper
4 tablespoons butter, divided
1 tablespoon extra virgin olive oil
1 tablespoon fresh sage leaves
Several cloves of garlic, peeled
3/4 cup dry white wine (I used Pinot Grigio) or a combo of wine and stock.

1. Sprinkle the chicken on all sides with salt and pepper. Heat 2 tablespoons butter and the olive oil in a large sauté pan. When foam from the butter subsides, brown the chicken on both sides over medium high heat, about 5 minutes per side.

2.Add sage leaves, garlic and wine to the pan. Cover, lower the heat to medium and cook 20 minutes or until the chicken is cooked through.

3.Remove chicken from pan (total cook time should be 30 minutes, but will vary depending on the size of the chicken). Adjust heat to medium-high and boil wine until syrup. Remove pan from heat and stir in remaining butter.

4.Serve chicken with sauce, rice, noodles or bread to soak up the sauce.

Note From Anna: This makes 4 servings. If you are using super-gigantic grocery store bone-in chicken breasts like the ones from H.E.B., you can cut them in half horizontally (go right through the bone) with a chef's knife and still get 4 servings.
Related posts: