After weeks of looking at Fuzz's cupcake hat, I decided it would be fun to make some matching cupcakes.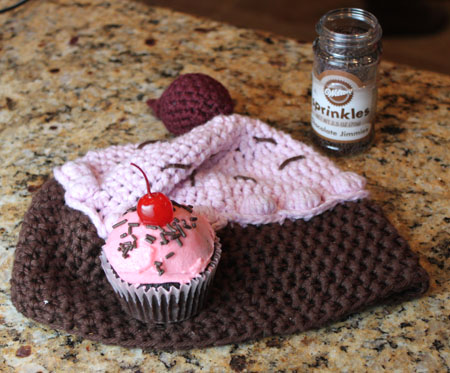 While cherry frosting would have been more unique, I haven't found a really kid-friendly cherry frosting and decided to go with vanilla with red food coloring. As for the base, it's adapted from Magnolia's recipe and calls for Dutch cocoa, which gives the cupcakes a distinct flavor and will vary depending on what brand you use.
These cupcakes are perfect for kids and adults. Even though The Ultimate Chocolate Cupcake recipe is still my personal favorite, I've had some kids tell me the chocolate tasted "too dark" and have reserved that recipe for more mature audiences. This recipe is a good alternative and perfect for class parties since it makes 24. My Magnolia books says the base can stretch to 28 cupcakes, but I made 24 and they were just the right size.
Dutch Chocolate Cupcakes with Pink Frosting
An easy chocolate cupcake recipe
Ingredients
2 cups cake flour (8 oz)
1 cup Dutch process cocoa powder
1 1/2 teaspoon baking soda
1/2 teaspoon salt
12 tablespoons unsalted butter, softened
1 1/2 cups light brown sugar, packed
1/2 cup sugar
3 large whole eggs, at room temperature
1 1/2 teaspoon vanilla
1 1/2 cups buttermilk or milk mixed with a little lemon juice
Pink Frosting
8 tablespoons butter, softened
3 1/2 cups powdered sugar
2-4 tablespoons of milk (I've found whole works best)
1 teaspoon of vanilla
Few drops of red food coloring
Instructions
Preheat oven to 350 degrees F. Line 24 muffin cups with paper liners.
Mix together the flour with the cocoa powder, baking soda, and salt.
Beat the butter with an electric mixer at medium speed until smooth, about 2 minutes. Increase the speed to medium-high and gradually add both sugars. Beat for about 3 minutes. Beat in the eggs, one at a time. Beat in the vanilla. Using lowest speed of mixer, add flour and milk alternately.
Divide the batter equally among the muffin cups (about 2/3 full) and bake until the centers of the cupcakes spring back when pressed gently, about 25 minutes. Cool on a rack for 10 minutes then remove from the tin and cool completely before frosting.
Frosting:
Mix the butter and powdered sugar together in bowl of a stand mixer using low speed. Add a little of the milk to soften and continue beating until mixture comes together. Add vanilla. Add milk 1 tablespoon at a time until you get the consistency you want. Beat until light and fluffy. Add a drop or two of red food coloring.
Frost the cupcakes then decorate with chocolate sprinkles and stemmed cherries.
Related posts: