What a great week this was. My plans included going to the dentist, coordinating a wood floor repair, and selling Girl Scout cookies. Instead, I ended up in New York City partying with movie stars. Thanks to I Can't Believe It's Not Butter for livening up the week.
It all started with an email on Friday from my friends at I Can't Believe It's Not Butter's PR agency. Last year they invited some bloggers to compete in a casual baking competition, but this year they had a few spots open for an event that didn't require competition – a mystery event. All we knew was that we'd been invited to a party in the city (two, actually) and that airfare, hotel and transportation were provided. I spent the next two days organizing things on the home front before taking off on a Jet Blue flight to NYC. I'll tell you about that in another post, but I have a new favorite airline.
Due to the weather, I Can't Believe It's Not Butter flew us up a day early. Along with a good night's sleep, that gave us some extra time to enjoy the city one our own before meeting up for an evening party. It was held in the hotel and was casual, intimate, and perfect for socializing with the other bloggers while being given the scoop on the next day's event.   And the scoop? We were going to a brunch at a restaurant called "Butter" where they would introduce I Can't Believe It's Not Butter's new celebrity spokesperson. At that point, they still wouldn't tell us who it was and we spent the evening trying to guess. We didn't find out until the next morning.
Nobody had guessed who it was, but in an SUV heading down Broadway in the snow, non disclosures were passed out and we were told that Kim Cattrall is the new spokesperson for I Can't Believe It's Not Butter. With a reputation for playing women who embrace the concept of "having it all" with a wink and a smile, she seemed like a great choice. Of course I have to admit, we were also quite star struck with the chef who was cooking the brunch, Alex Guarnaschelli. If you're not familiar with her quite yet, she's been a NYC chef for many years , is a judge on Chopped, and has a show on Food TV called Alex's Day Off. Here's a photo of Alex and Kim. I wish I could say I took it, but we weren't allowed to run around taking photos of the talent. I'm pretty sure if I were an actress, I would appreciate that. Plus, this is a good shot.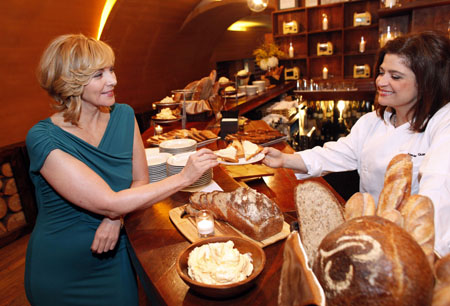 We were allowed to take pictures of everything else, such as this photo of the bar. Notice the toasters? They replaced all the wine bottles with yellow toasters and turned it into a toast bar.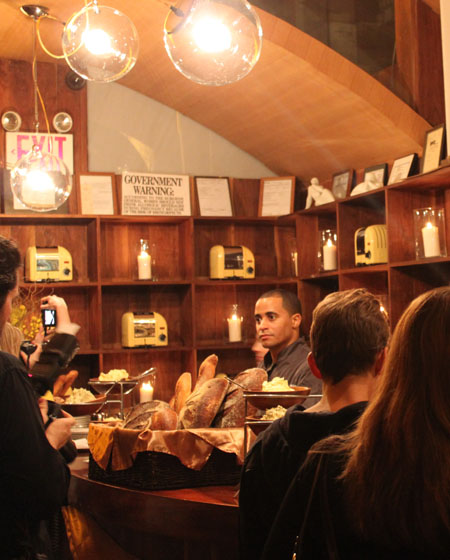 And here's a photo of Butter's gorgeous main dining room.  Speaking of which, the blonde next to the lit up tree is Lori from Recipegirl.
Oh and this? This is toast.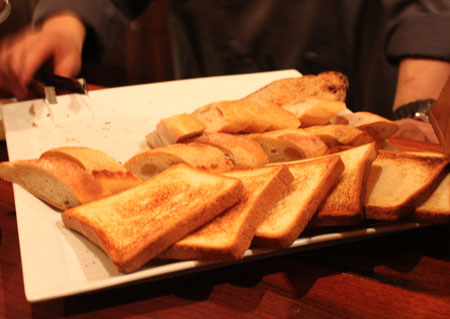 But what made the toast special was that Alex made a savory spread using I Can't Believe It's Not Butter, grainy mustard, capers, and spices. Savory Spread recipe is here.  She also made a sweet one, but I didn't get to try it.  I'll have to wait for my next toast party.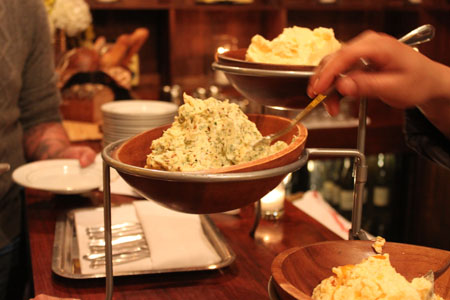 Here's a lovely place setting. A real food photographer would have moved that half-eaten toast out of the way.  I was just concerned with the light at that point.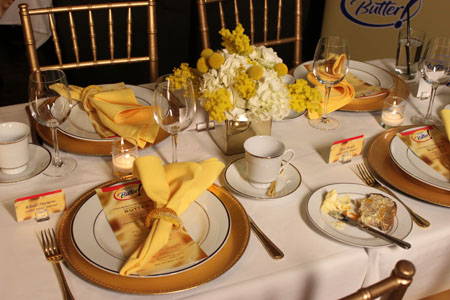 Along with the toast and spreads, Alex made a whole brunch using the "unbelievably different recipes" she developed for the product.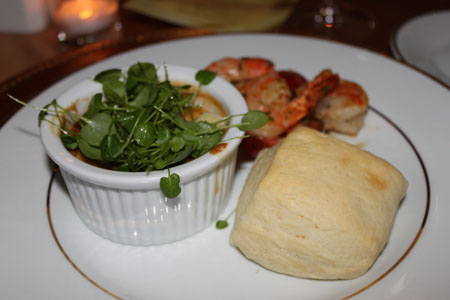 My favorite of all the foods served was the Unbelievable Biscuit. It was the softest, most richest tasting biscuit I'd ever eaten, and I'm wondering if maybe Alex has some White Lily flour back in that kitchen. You can make the biscuits with all-purpose, but hers were extra soft and I think it was the type of flour (Update: Nope! I tested these tonight and it's the cream).  Then again, maybe it was the butter?  Not sure.
Next to the biscuit is a ramekin of quiche. The Crustless Quiche with Goat Cheese & Scallions recipe on I Can't Believe It's Not Butter's page has it in a pie plate, but I loved the presentation of the ramekin quiche topped with fancy lettuce. It was a small portion of something rich, yet the presentation made it seem like more.
Next up was the Buttery Shrimp With Grilled Tomatoes, but if you've been reading this blog for a while know I skipped that. It looked good, though.
And finally, the I Can't Believe It's Not Butter Cookies. My picture turned out blurry, so I'll have to make a fresh batch for you. If Alex hadn't promised she used spread, I wouldn't have believed she used it in those cookies. I loved the flavor, but was also surprised at how light and crunchy they were even with spreads. Sometimes spreads make cookies cakey, but not these.
So it was a fabulous trip and I'm looking forward to making some of the recipes at home.  The fact that it has 70% less saturated fat and fewer calories than regular butter is a big bonus and one of the main reasons people use the spread, but given the extra kick of buttery flavor it has, it really is fun incorporating it into some baked goods where that extra flavor makes people comment "I can really taste the butter".
Here's another tip from me.  If you're playing around with buttery tasting recipes and you like wine, try pairing one of the  buttery things with a buttery tasting Chardonnay.  I don't know why, but the flavoring in the I  Can't Believe It's Not Butter plus the butter flavor in the Chardonnay work really well together.
Related posts: