UPDATE: The winner was Kerstin at Cake Batter & Bowl. Congratulations, Kerstin!
If your New Year's resolution involves cooking, here's a giveaway that might help you reach your 2011 goals. Morton Salt is offering one reader a gift pack of assorted salts to inspire your culinary imagination all year round.
For a chance at receiving your own sampling of salt (plus a few other treats) from Morton, check the Morton Salt recipe database then come back and tell me one dish you'd like to make.  Naturally the salted oatmeal cookies caught my eye, but I think Fuzz might like the Mini Meatloaves made with Morton's Season-All and that we'd all like steak with an Asian Rub made with Morton Coarse Sea Salt.
Deadline for this giveaway is Wednesday 5 at midnight. I will pick a comment at random and notify the winner on Thursday.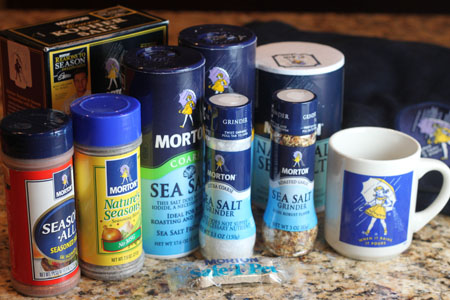 Also, don't forget to check Morton Salt Facebook page for their latest contest. Click the contest tab and upload a picture illustrating your "Morton Salt Secret" for a chance to win a $1,000 Amex gift card!
Related posts: