Yesterday I had a couple of men here to move my 350 pound treadmill up the stairs and assemble it. If anyone deserved cookies they did, so I baked up a batch of David Lebovitz's Salted Butter Chocolate Chip Cookies.
What I've found over the years is that other than pure delight, there's no element of uncertainty when making a David Lebovitz recipe. They're all perfect, and so is this one. It's a simple chocolate chip cookie, but David recognized that salted butter can make for an excellent chocolate chip cookie, explained why in really insightful post, then typed up this gem of a recipe. It doesn't look so special on paper and there aren't any tricks (unless you count taking them out after 10 minutes and tapping them with a spatula), but the cookies are just perfect – rich, chewy and packed with brown sugar flavor (I used dark).
Here's the cookie recipe from David Lebovitz's blog.  If you have time, read the comments because they're pretty interesting.  One commenter told a story about how every time she bought salted butter it had an off appearance and taste, then realized that the salted butter at her store was much fresher because it was the one that was flying off the shelves. Makes sense.
That being said, I plan on continuing to buy unsalted butter because I've gotten used to controlling how much salt is in recipes, but I may throw a pack of salted in the cart as well. It certainly worked well here.
Salted Butter Chocolate Chip Cookies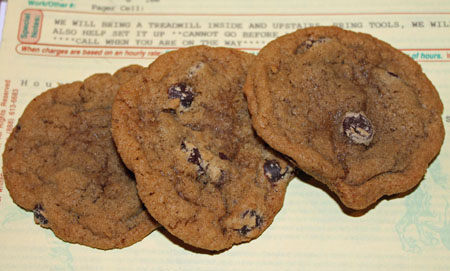 The new treadmill works great, btw. I ordered a Livestrong model, so if I don't use it, at least I've done a little to help fight cancer. So far I like it, though.
Related posts: