Thanks to Louise for today's recipe, Gluten Free Chocolate Chip Cookies. I had no idea what to make, but she sent me a photo along with this wheat free cookie receip from Gourmet. The recipe has a video accompanying it called Diary of a Foodie. I didn't watch it but let me know if I need to. The goal right now is to round up all the ingredients which include xanthan gum and potato starch and a few other things I don't normally keep in the pantry. Judging from Louise's review, it's worth buying the ingredients just for experimentation's sake. Here's Louise's photo.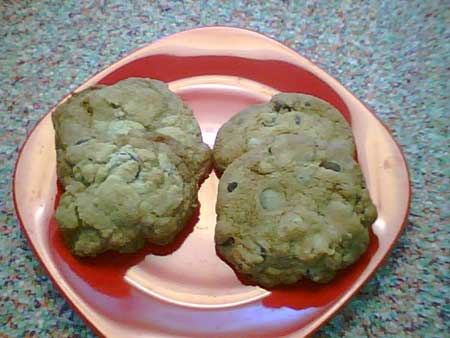 Louise noted that baking these at 400 F rather than 375 F might give you better results, as she accidentally baked some at 400 F and they rose better.  If you use 400, just keep an eye on the cookies.

Gluten Free Chocolate Chip Cookies
Gluten Free Chocolate Chips Cookies can be made with your favorite gluten free flour blend.
Ingredients
2 cups plus 2 tablespoons gluten free all-purpose flour
1 1/2 teaspoons baking soda
1/2 teaspoon salt
1 teaspoon xanthan gum
1 cup vegetable shortening ((Nutiva)
1 cup granulated sugar
1/2 cup packed brown sugar
2 large eggs
1 tablespoon vanilla
2 cups semisweet chocolate chips
1 cup finely chopped walnuts (optional)
Instructions
Mix together the flour, baking soda, salt and xanthan gum. Set aside.
In a mixing bowl, beat the shortening and both sugars until creamy. Beat in the eggs, then beat in the vanilla.
Add the flour mixture to the egg mixture and stir until blended, then stir in the chips and nuts.
Drop heaping teaspoons of dough 2 inches apart on parchment or nonstick foil lined baking sheets.
Bake one sheet at a time at 375 degrees F. for 10 minutes or until cookies are brown around the edges.
Let cool for about 5 minutes on baking sheets, then transfer to a wire rack and let cool completely.
Notes
You can make your own gluten free flour blend by combining the following:

2 cups brown-rice flour (extra finely ground)
2/3 cup potato starch
1/3 cup tapioca flour
Related posts: