A few weeks ago I saw an ad for cookies made with Grape Nuts. At the time, I didn't even like Grape Nuts, but I was so intent on trying the recipe that I forgot about my childhood Grape Nuts aversion and threw a box into the basket. Flash forward to now, where over the course of the past few weeks I've developed a raging Grape Nuts addiction. Well, maybe not raging, but I've really started liking them to the point where I'm eating them every single day in some form or fashion. Today, that form/fashion happened to be a no-bake bar cookie.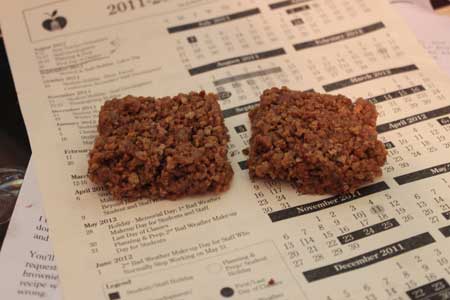 Thanks goodness for easy no-bake recipes because it's hot here, I haven't had the will to bake, yet I've been craving sugar like made.   These bars do the trick. They're like eating a peanut butter candy bar with a little fiber added.
What a nice return on an investment in a box of cereal I thought I didn't like.
No-Bake Grape Nuts Peanut Butter Bars
1/4 generous cup of peanut butter**
1/3 cup white corn syrup
1/3 cup granulated sugar
1 1/3 generous cups Grape Nuts
Line a 9×5 inch loaf pan with non-stick foil (or use regular foil and spray it with cooking spray.
In a medium sized microwave-safe bowl, mix together the peanut butter, corn syrup and granulated sugar. Microwave for two minutes, stopping to stir after one minute. Stir in the cereal, then dump it all into your lined pan and press to make a bar. Let it cool, then slice into 8 squares.
**I used Skippy Natural with Honey
Related posts: