Today's apple bread made with Lucky Leaf apple pie filling, was a surprise hit and one I wish I'd tried sooner. The problem was it also called for biscuit mix and the only type I buy is the lower fat "Heart Smart" type, which I wasn't sure would work. But today I was desperate — there were hungry kids running around, I was completely out of butter, and I had an open can of pie filling that needed using. The bread, which is made with  vegetable oil instead of butter, was the perfect solution, and based on the results I'd go out and buy everything to make it again.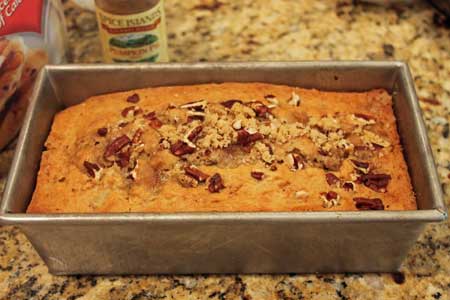 This a good bread.  The apple flavor is not overwhelming or overly tart and the bread tastes more like apple pie or strudel than plain apple bread. Plus, you get big chunks of soft apples in every slice. The original apple streusel bread recipe is on Lucky Leaf, but I halved it and used the light baking mix. I also used Spice Islands Pumpkin Pie Spice instead of apple pie spice and an extra dash of cinnamon.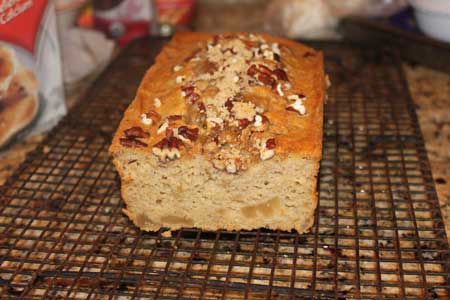 Apple Streusel Bread
An apple quick bread with apple pie filling in the batter. I only needed one loaf and used half a can. For two loaves, double the recipe and use the full can. You can freeze the second loaf or give it away.
Ingredients
1 1/4 cups packaged baking mix (I used Bisquick Light)
1/4 cup flour
1 teaspoons apple or pumpkin pie spice
2 large eggs, beaten
1/2 of a can of 21 oz can apple pie filling (Lucky Leaf Premium)
1/2 cup applesauce
1/4 cup plus 2 tablespoons packed brown sugar (divided)
1/3 cup cooking oil
1/4 cup chopped walnuts (optional)
Instructions
Preheat oven to 350°F. Spray a loaf pan with flour-added baking spray.
In a large bowl combine baking mix, flour, and spice. In another large bowl combine eggs, apple pie filling, apple sauce, 1/4 cup of the brown sugar, and oil. Add to flour mixture. Stir just until moistened. Pour into pan. Top with remaining brown sugar and nuts (if using).
Bake for 55 to 60 minutes or until a toothpick inserted in the center comes out clean. Cool in pan on wire rack for 10 minutes. Remove from pan and cool completely on wire rack. Wrap and store overnight for easier slicing. Makes 1 loaf
Related posts: