My magazine subscriptions have expired and I've cycled through all my cookbooks, so now I'm reading old cookbooks and browsing for things I may have missed. Or in my case, things I may have made but totally forgot about since my memory is going. So it's possible I made this bread in the past and just can't remember, or it's something I skipped. In fact maybe I did skip it because in the past I never cared for zucchini. I still don't like it by itself, but it's tasty in quick bread and this recipe sounded good. As a bonus, it's by Jane Brody which means it has some nutritional value as well.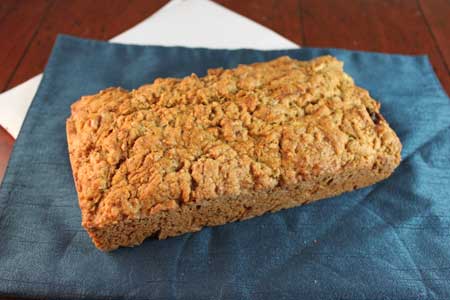 Of course I made some changes to the original recipe. Instead of using half whole wheat and half white, I used King Arthur's White Whole Wheat. I also drained the zucchini on paper towels for about 10 minutes, which may have been why the batter was so very thick. Not that it was a problem, because the bread was very good in the end. It had a soft, not-too-sweet interior and a lumpy, bumpy, almost cookie-like crust. Hopefully Fuzz will eat some for her snack.
By the way, I've started toasting nuts in the microwave again. Every microwave is different, but I've found that if I put a handful walnuts or pecans on some paper towels and toast for 1 minute and 40 seconds at 50% power, I get nicely toasted nuts. Sometimes I use 40% power, depending on the nuts. Pecans are better at 40%. The trick is not using full power because in modern microwaves, nuts tend to burn. It might take some experimenting with different power settings on your microwave, but you really can toast small amounts of nuts in it if you figure out the right setting.
A Healthier Zucchini Bread
Zucchini bread with less fat, less sugar and whole wheat flour
Ingredients
1 1/4 c. packed, finely grated, unpeeled zucchini
1 1/2 cups (6.7 oz) white whole wheat flour, fluff it up or sift it first
1/2 cup granulated sugar
1 teaspoon baking powder
1/2 teaspoon baking soda
1/4 teaspoon salt
1 teaspoon cinnamon
1/4 teaspoon cloves
1/4 teaspoon nutmeg
1 egg white
1 whole egg
1 teaspoon vanilla
6 generous tablespoons of vegetable oil
1/2 cup walnuts, toasted and chopped
Instructions
Preheat oven to 350ºF. Spray a 9x5 inch loaf pan with flour-added baking spray.
Lay the zucchini on a stack of paper towels. Press out some of the moisture and let it stand for about 10 minutes.
In a large mixing bowl, thoroughly stir together the flour, sugar, baking powder, soda, salt, cinnamon, cloves and nutmeg.
In a medium bowl, stir together egg white, whole egg, oil, zucchini and vanilla. Add this mixture to the flour mixture, stirring to combine them well. Stir in nuts. Pour batter into pan. Bake for 50 minutes or until a toothpick inserted in the center comes out clean.
Related posts: