In a few days we'll be in Seattle drinking coffee at the original Starbucks, hanging with the kids at Cake Spy and going down our list of suggestions for touristy things to do, but right now we're stuck inside with the air condition watching Phineas and Ferb marathons and doing baking experiments — most of which have not worked, which is why I've posted very little this past week. Luckily, Louise sent me a recipe to share, so thanks Louise!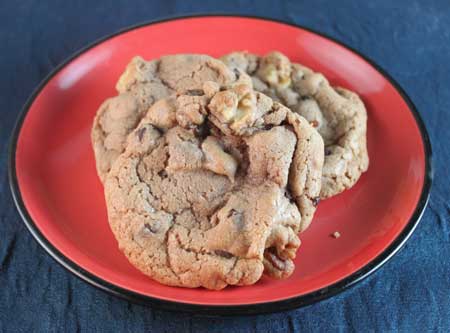 Louise has been doing some experimenting of her own, and one cookie recipe she's been using as a springboard is from Bill Yosses. If you recognize the name, it's because he currently works in the The White House where dessert is a rarity (sniff) and the focus is on more wholesome treats like Fruit and Oat Bars.  This is one of his old (and more fun) ones.   The original version called for hazelnut paste and had a nuttier flavor.  Louise's version, one she modified from the Washington Post, uses Nutella in place of the hazelnut paste and slightly different proportions of butter and sugar.  If you've baked with Nutella, you know the flavor is barely perceptible in small amounts, but it does had a shiny dark hue to the cookies plus extra sweetness and chewiness. The hazelnut flavor, again, is subtle, but if you want to ramp it up you can use hazelnuts for the nuts and use something like Lindt or Rittersport bittersweet chocolate with hazelnuts added. That, or add some hazelnut extract, which I've never tried but have heard about. I think King Arthur sells it.

Louise's Nutella Cookies
Louise's Nutella Cookies
Ingredients
1 cup plus 2 tablespoons plus 2 teaspoon flour (5.25 oz)
1/2 teaspoon baking soda
1/2 teaspoon salt
5 tablespoons unsalted butter, at room temperature
1/2 cup granulated sugar
1/4 cup light brown sugar, lightly packed
2 tablespoons Nutella
1 large egg
1/2 teaspoon vanilla
1 ½ cups chocolate chips or chopped up bittersweet or semi-sweet chocolate with hazelnuts added
¼ cup nuts (I used toasted walnuts)
Instructions
Preheat oven to 375ºF. Line 2 baking sheets with parchment paper.
Mix the flour, baking soda and salt together and set aside.
In the bowl of a stand mixer fitted with a paddle attachment or in a large mixing bowl using a hand-held electric mixer, beat the butter and both sugars until creamy. Reduce the speed to medium-low, then add the Nutella and beat until smooth. Add the egg and beat until it's mixed in, then add the vanilla. Reduce the speed to low. Gradually add the flour mixture, beating just until the dough comes together. Stir in the chocolate pieces and, if desired, the nuts.
Using a tablespoon, scoop up heaps of dough and put them on the baking sheet, spacing about 3 inches apart. Bake one sheet at a time for 10 minutes or until cookies look set. Transfer the sheets to a wire rack to cool for at least 10 minutes. I actually like them best chilled, but maybe that's because it's 104 degrees and everything seems better chilled.
Notes
I'm not sure of the exact number of cookies yet.
Related posts: