Hey, the DOW is up today (or at the moment, at least). I'm celebrating with some Whoopie Pies. A better excuse would be that it's starting to feel like fall, but it isn't. It's hot and sunny and we keep having fires. Where is autumn?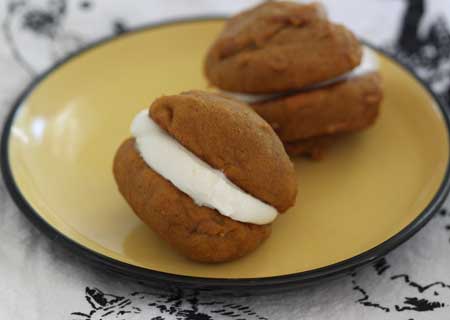 Pumpkin Whoopie Pies
A basic pumpkin whoopie pie recipe
Ingredients
3 cups (13.5 oz) all-purpose flour
1 tablespoon pumpkin pie spice
1 teaspoon baking powder
1 teaspoon baking soda
1 teaspoon salt
2 large eggs
2 cups golden brown sugar, lightly packed
1 cup vegetable oil
1 teaspoon vanilla (I used my Mexican vanilla. Bueno!)
1 (15 oz) can pumpkin
Filling
4 oz. cream cheese, softened
1 stick (4 oz) unsalted or salted butter, softened
2 tsp. vanilla extract
4 cups confectioners' sugar
1/3 cup marshmallow fluff
Instructions
Preheat oven to 350 degrees and have ready two ungreased baking sheets.
In a medium size bowl, mix together the flour, pumpkin pie spice, baking powder, baking soda and salt.
In a large bowl, using a hand-held electric mixer, beat the eggs, brown sugar, oil and vanilla until smooth. Stir in the pumpkin. With a mixing spoon or rubber scraper, gradually add the flour mixture until blended.
Drop by heaping tablespoons onto the baking sheets. Dampen your fingers with a little water and shape the pumpkin blobs so that they're kind of round. Bake for 12 minutes or until they appear set. Let cool completely.
To make the filling, beat the cream cheese, softened butter and vanilla in a bowl until light and fluffy. Mix in sugar and beat until smooth. Add the marshmallow fluff and beat until smooth. Spoon a heaping spoonful of filling between two cool cookies.
Related posts: