Last week a spokesperson for Cardelle LLC  asked if I'd like to try their new sweetener, Fibrelle.  Since I usually bake with sugar and detect the aftertaste in almost every artificial sweetener, I was tempted to say no.  What changed my mind was the fact that this sweetener has loads of fiber and helps to reduce calories in baked goods on an oz per oz basis.
If you bake with sugar substitutes, you already know that using a sugar substitute doesn't always lead to a lower calorie product.  The reason is, if you knock 580 calories (about 3/4 cup) of sugar out of a recipe, you're also knocking out 5.2 oz of weight. That may not sound like a lot, but if you're talking about a recipe that makes 12 chocolate cupcakes from 17 oz of batter, you'll definitely notice that the cupcakes made with only 11.8 oz of batter are smaller.   That, plus they'll be higher in proportion of whatever other ingredients are in the cupcake, which usually means fat and flour.  And this is where the Fibrelle comes in.  Made with a prebiotic soluble  fiber from chicory root called Inulin and a blend of sweeteners, Fibrelle is designed to taste good, reduce the glycemic load, and replace lost mass of sugar with fiber.  The company says it can be used cup for cup like sugar,  will activate yeast just like sugar, and even caramelize and brown just like sugar.  So given all the positive attributes of this product, I couldn't resist trying it at home.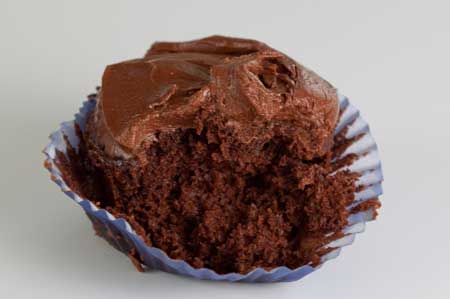 First, I made a batch of 12 chocolate cupcakes. After baking, they each weighed 1 1/3 oz (minus frosting) and I calculated approximately 110 calories (again, not counting frosting) each.  With sugar they would have been closer to 150 calories. Plus each cupcake had at least 7 grams dietary fiber, which  according to Fibrelle, is as much as two small apples.  As for flavor, when warm I could detect a slight aftertaste similar to what I taste in Stevia, but after the cupcakes cooled off, the aftertaste diminished quite a bit.  Compared to other sweeteners, the aftertaste was minimal and not really an issue (though there was a lingering flavor kind of like you get when you eat something with a lot of baking soda).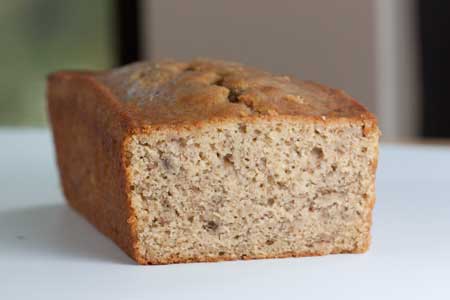 Next, I used the Fibrelle in a low fat banana bread and got a nice looking baked loaf with very good flavor.  By adding up the ingredients and dividing the entire weight of the baked bread by the total calories, I calculated that the banana bread had about 70 calories per oz.  Depending on how much oil and sugar, other banana breads range from 90 to 120 calories per oz. so when you cut yourself a big 2 or 3 oz slice, the calorie saving is substantial.
Fibrelle
is available via Amazon and I suppose it will be on grocery store shelves soon. I tend to be a little cautious with artificial sweeteners, but like a lot of others I drink diet soda anyway and use artificial sweeteners to cut calories in places where I won't miss them.  For baking, pure sugar, honey, and maple syrup are my sweeteners of choice, but when I'm trying to cut calories and want a substantial muffin, cupcake or cookie (my next experiment with Fibrelle), I'd use the Fibrelle.
If you try it, let me know.  I see the ingredient "inulin" in all kinds of reduced fat, high fiber packaged foods, so it looks like this is a way for the home baker to incorporate it into every day baking (though it might also be nice to have the inulin without the artificial sweeteners).
Now here's that cupcake recipe I mentioned. These were great with Fibrelle, but I've always made them with granulated sugar.
I also posted the banana bread recipe which is even lower in calories oz for oz due to the generous amount of bananas and small bit of fat.
Easy Chocolate Cupcakes with Sugar vs. Fibrelle
Makes 12
1/4 cup vegetable oil
3/4 cup Fibrelle or granulated sugar
1 egg
1 teaspoon vanilla extract
1/4 teaspoon salt
1 teaspoon baking soda
1/3 cup unsweetened natural style unsweetened cocoa powder
3/4 cup buttermilk, room temperature
1 cup all-purpose flour, sifted after measuring
Frosting
1 ½ cups powdered sugar
4 tablespoons butter, softened plus pinch of salt
4 tablespoons of milk plus some extra as needed
1 teaspoon of vanilla
1/3 cup cocoa powder
Preheat oven to 350 degrees F. Line 12 cupcake cups with paper liners.
Beat oil and Fibrelle (or sugar) with an electric mixer until smooth. Beat in
egg, vanilla, salt, and baking soda until well blended. Beat in cocoa powder. With a large mixing spoon or rubber scraper, stir in the flour alternately with the milk until flour is absorbed.
Divide batter equally between 12 paper-lined cupcake cups. Bake at 350
degrees for 25 minutes or until a toothpick inserted comes out clean.
Cool in pan on rack 20 minutes. Remove to platter to continue cooling.
For the frosting, combine the powdered sugar and butter (plus pinch of salt if using unsalted) in a bowl. Mix on low speed of by hand, then beat with a hand-held mixer, slowly adding milk one tablespoon at a time until creamy. Continue beating until smooth, then beat in the vanilla and cocoa powder, adjusting milk as needed. For a little extra flavor, swap out some of the regular milk for butter milk or add a little cream.  Adjust the milk and sugar until the texture is the way YOU like it.
Low Fat Banana Bread
1 cup all-purpose flour 4.5 oz
3/4 cup white whole wheat flour 3.5 oz
2 teaspoons baking powder
1/2 teaspoon baking soda
1/2 teaspoon salt
2 large eggs
3/4 cup Fibrelle or granulated sugar
1 heaping cup mashed bananas (about 3)
1/3 cup buttermilk
1 tablespoon light olive oil
1 tablespoon vanilla extract
Preheat oven to 325 F. Spray an 8×5 or slightly larger loaf pan with flour added baking spray.
Thoroughly mix the flours, baking powder, baking soda and salt together in a bowl and set aside.
In a mixing bowl, beat the eggs with a hand-held electric mixer until light. Gradually beat in the Fibelle or sugar and continue beating for another minute. Beat in the bananas, buttermilk, oil, and vanilla.
Add the flour mixture. Mix gently until blended and pour into pan. Bake on center rack for 1 hour. Let cool in pan for 10 minutes, then turn from pan and let cool completely.
Related posts: