Wow, what a trip. I had so much fun visiting the Smucker company in Ohio but it's good to me home. The trip was perfect, save for the flight delay that held me back a day. I ended up staying overnight in O'Hare and arriving home literally 5 minutes before Fuzz was to take off for a camping trip with her Girl Scout troop. In fact, I had raised some eyebrows by having the livery car drop me off in the school parking lot which was the drop off point for the camp out. Fuzz was happy to see me, but I think what she really wanted was her new socks.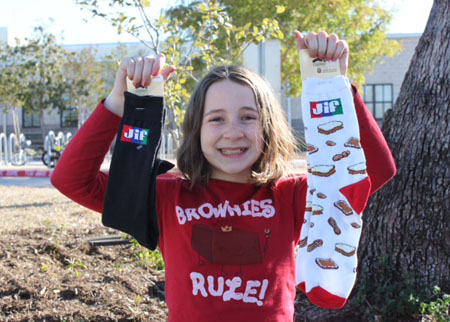 After saying goodbye, Todd and I went home to see the dogs, then went shopping for ingredients to make dinner and a batch of the Super Simple Homemade Ice Cream. I'll tell you all about it later. I made it last night and will scoop it today.
One more thing.  This is not food related at all, but it was kind of an exciting event for me and I feel like sharing the story.  On the flight home my seat mate was a blues legend named Andre Williams.   I didn't know who he was, but he had impeccable manners, was dressed in blue satin, wore a hat and called me "Missy" without any irony.  I figured he was a blues musician, but I didn't bug him about it until we landed.  As we got off the plane I asked "Are you from Austin?".  He told me no and that he was "entertaining" here this evening at midnight.  That led to more questions and then I told him I'd try to make it to the venue.  Unfortunately, I was too zonked to go, but I was glad to have made the acquaintance.  That stuff doesn't happen every day.
Related posts: