Well everything was going just swimmingly but alas, I am stuck in Chicago. It's a long story. We could share airline woes all day long, but I'm trying to keep my cool. Speaking of which, I have a great new ice cream recipe courtesy of Eagle Brand! I've discovered the soothing qualities of having an Uncrustable in one's purse and I've renewed my relationship with Crisco. We were on the rocks for a time due to so much hype about butter, but I do love a pie crust made with a little shortening and I'm going to stop apologizing for it! Baker's use it.
Anyhow, I managed to somehow delete my post from yesterday via a boring app technicality (or my failure to use said app effectively), so here are some more photos from the trip.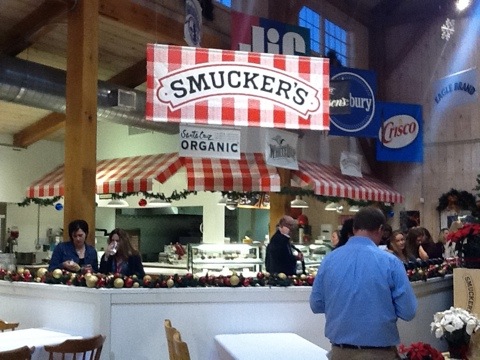 As I mentioned before, the headquarters, located in a little town outside of Akron called Orrville, has a nice little general store where they sell just about anything under the Smucker's umbrella. You can bet that a lot of people in the nearby area shop there and that it's a great place to bring tourists. Since Smucker's owns Pillsbury's baking aisle products (cookie mix, frosting, etc.) the Doughboy was well represented.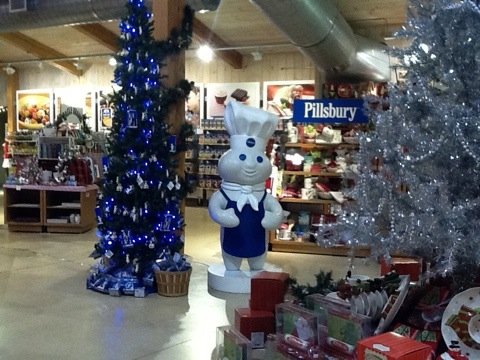 But we didn't just go to Smucker's to shop. We tasted all kinds of Millstone, Folger's and Duncan Doughnuts Coffee, made pie crusts and learned tips on how to do it better, visited the sensory and research labs and met the scientists (the ones who listen to Christmas music all year round) and got to know the test kitchen staff as they guided us through lessons on how to be a barista and get this — BAKING COOKIE! Yes, I learned to bake cookies yesterday. Seriously, it was fun baking with real test kitchen people and having access to brand new recipes. This is a Banana Bran Cookie made with bananas, bran flakes and a base made of homemade cookie mix, which you make yourself and use a myriad of ways. I'll be sharing that recipe when I get back home to Texas.
Yesterday I also mentioned we made Eagle Brand ice cream and I was skeptical as to how it would taste. A few of you mentioned you'd tried it and loved it and others said they thought not using an ice cream maker would make it grainy and/or it would taste like condensed milk. After letting the ice cream sit in the freezer all night, I can tell you that it was not grainy but rather ultra-smooth and indulgently rich. You can kind of taste the condensed milk, but only in the vanilla. Most people who made ice cream yesterday added all kinds of flavorings to theirs. Also, since you start with soft ice cream, you don't have to soften it before adding it to pies or molds. You just whip it up and pour it in the pan! When I get home I'm going to try making a Neapolitan loaf with three kinds of mint.
All in all it was an exciting trip and I have lots more (and better) photos to post. Since I'm on a sketchy wireless connection I'm going to post this now.
Feel free to comment, as I loved the last comments about Ohio, condensed milk, etcs. Plus, I need comments to keep me company here in Chicago. Also, if you have some time I'd be interested in knowing what fat you use in your pie crust. I go back and forth between butter and shortening and sometimes I combine the two.
FULL DISCLOSURE: I think you're smart enough to know this, but the trip and all its related expenses were paid for by Smucker's. Since I've been using their products for the past 30 something plus more years, I was happy to go!
Related posts: