Last week The Foof Queens asked if I'd like to try a product they invented to help people wrap and style packages — a gadget that dispenses slide and tie sleeves of "GiftGloss".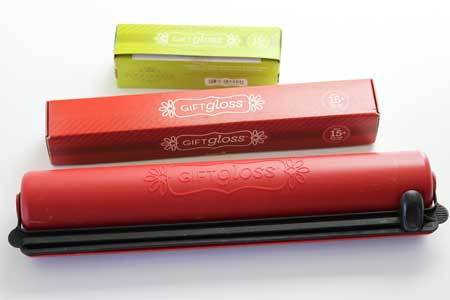 "Foof" is what you add to gifts to make them eye-catching, and of course it's how Betty and her friends got their nickname. This machine is their way of helping everyone, even people who might be the worst gift wrappers in the family (hello), add a little flair their packaging.  Naturally, I wanted to see how GiftGloss could be used with food gifts. Because the slide and tie sleeves are food grade, it seemed like a great way to quickly package cookies, cookie dough or other baked goods that were too pretty too hide in a box. Betty had wrapped some cookies and tied ribbons between each cookie, which she backed with a small tea bag.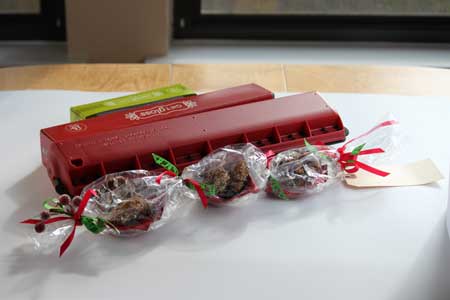 For my first experiment with GiftGloss, I wrapped a log of dough by putting it in a freezer bag, then sliding that into sleeve, clamping and tying with ribbon. I also GiftGlossed a single macaron (really cute!), and a stack of chocolate chip cookies. After a while, I was just looking for things to GiftGloss. It was fun.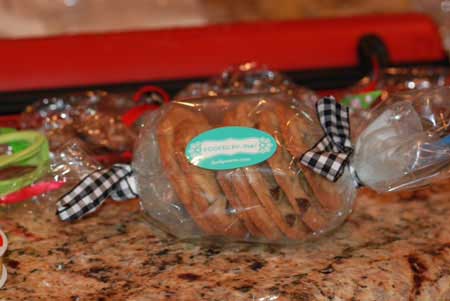 Honestly, I was a little suspicious when the GiftGloss dispenser when it arrived in the mail. It was so lightweight I feared I'd destroy it, but Betty told me it was made of  a very strong material called "ABS" and I found that I could knock it around quite a bit without breaking it. It's a tough little machine and its size is an asset. In fact, it fit right in a kitchen drawer, which I'm now converting to a "foof" drawer where I plan to store ribbons and tissue to go with the GiftGloss.
My cookie dough, macaron and stack of cookies were fun experiments, but GiftGloss really shines when it comes to hard-to-wrap gifts. This videowas inspiring, really. Now you can give tchotchke without having to put it in a box! Okay, maybe not, but I like that you can skip the box for oddly shaped items
If you think it might help you wrap gifts or if you know someone you might like to gift this to, Betty provided Cookie Madness readers with a special gift code "COOKIE" which gives you a 20% discount on the GiftGloss kit.  It includes the following
* dispenser (approx.14-3/4"l x 3-3/8"w x 2-1/4"h) Made in USA.
* One 50′ roll of 6" wide tubular GiftGloss – Made in China.
* One 50' roll of 12" wide tubular GiftGloss – Made in China.
* 2 sheets "foofed by me" stickers.
* One "Helping Hand" tool. (color will vary)
They also sell hand-selected ribbons, raffia and tissue, but I recommend starting with the kit and working from there. And don't forget to check out their  videos and tips.
Related posts: