I'm in the midst of a big magazine purge and my latest victim is a stack of Eating Wells from 2004. Turn, turn, read, turn, read, rip, read, rip. I've been doing this during dinner while we eat. Nobody cares. Anyway, last night I came across this recipe and ripped it out immediately. There's no shortage of swirled cheesecake brownies recipes, but this one was so elegantly lightened, with the use of Neufchatel cheese in place of regular, whole wheat pastry flour in place of white, and creative appropriations of egg whites. I had to make these immediately.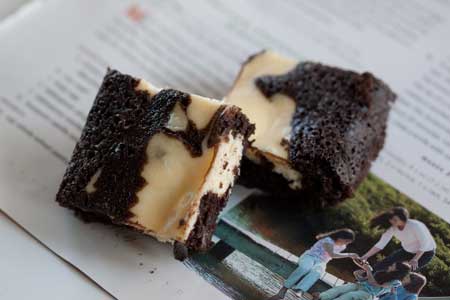 Despite the fact Eating Well strives for wholesome ingredients, I was determined to cut some of the sugar and tested the brownies with a mixture of sugar and Fibrelle – a sweetener with no aftertaste and the same mass and bulk as sugar. Fibrelle is still mail order only (unfortunately), but if you have a favorite sugar substitute, I'm sure it would work too.
The other change I made was to use a 9 inch square pan. I don't even think I own a 7×11 inch pan, and if I do it's glass, which I only use for casseroles. So 9 inch was perfect. And since I liked the brownies so much, I made a second batch, halving the recipe and using a 9×5 inch loaf pan. So if you only have 4 oz of cream cheese in the house, you can do that. Another thing I learned was that the chocolate batter tends to rise up and over the white batter, so it's best to put almost all the batter in the pan (rather than half, as the recipe states) and just save enough regular chocolate batter to dot over the cream cheese.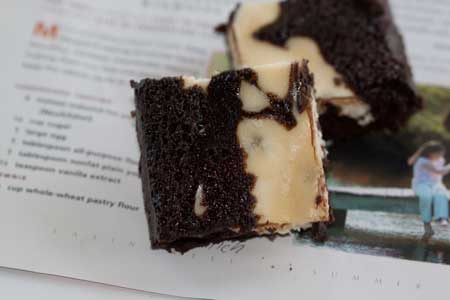 These were really good and don't taste at all healthy save for the tiny bit of graininess you get from the whole wheat pastry flour. I kind of liked that, though.
Here's the original version and below is how I made it.
Swirled Cheesecake Brownies
4 oz Neufchatel (or 1/3 Less Fat Philly) Cream Cheese
1/4 cup granulated sugar or equivalent artificial sweetener
1 large egg
1 tablespoon all-purpose flour
1 tablespoon plain yogurt
1/2 teaspoon vanilla extract
Brownie Layer
2/3 cup (3 oz) whole-wheat pastry flour
1/2 cup unsweetened cocoa powder
1/4 teaspoon salt
1 large egg
2 large egg whites,
1 1/4 cups packed light brown sugar (or 1/2 plus 2 brown and 1/2 plus 2 artificial sweetener)
1/4 cup extra light olive oil or canola
1/4 cup strong brewed coffee
2 teaspoons vanilla extract
Preheat oven to 350° F. Line a 9 inch square metal pan with non-stick foil or line with regular foil and spray with cooking spray.
Mix the cream cheese, sugar (or sweetener), egg, flour, yogurt and vanilla together in a small bowl and set aside.
Mix the whole-wheat flour, cocoa and salt in a bowl.
In a mixing bowl, beat the egg, egg whites and brown sugar (or artificial sweetener) until smooth. Add oil, coffee and vanilla; beat until well blended. Add the dry ingredients and stir or beat just until well blended, stopping once to scrape down the sides.
Scrape all but about 3 tablespoons of brownie batter into the prepared pan. Pour the topping as evenly as you can over the top. Drop the reserved brownie batter in large dollops over the topping. Draw the tip of a sharp knife or skewer through the two batters to create a swirled effect (I just skipped this because I wanted more white to show).
Bake the brownies until the top is just firm to the touch, about 20 to 25 minutes (mine took 25). Let cool completely in the pan on a wire rack. Chill thoroughly. Lift from pan and cut into 16 squares.
Related posts: