I like to keep it sweet here on Cookie Madness, so when Rice Select offered to let me review their rice, I said "Yes, on one condition. It has to be in rice pudding."
Okay, that's not exactly how it went down. Really, I was offered some free rice and since we eat a lot of it I said "Sure, I'd love to try the free rice!" and Rice Select said "You could use it rice pudding".
Or maybe that's not what happened. At any rate, we reached an agreement and I procured some delicious Rice Select. I'd seen it hundreds of times at the grocery store. It's a little pricier than the other rices, and while I love that it comes in a handy plastic container instead of a bag which I'll inevitably tear open and spill, I usually just go for the cheaper rice. But maybe not anymore. The type I tested was plain Texmati, and it was so good it didn't even need butter. It made the house smell like popcorn, had a fuller flavor than regular "unselect" rice, and longer grains. Thanks, Rice Select, for getting me hooked on your fancy, highfalutin rice. Now I have to go out and buy the flavored Texmati Medleys.
Ah, but back to that pudding. I don't make rice pudding very often, but the ones I have made are usually the firm textured kinds you can cut with a knife. The Texmati Rice Pudding fell into that category. Mine was probably a bit too firm because I used a little more rice that called for, but it was an interesting change from our usual after-dinner light ice cream. And in case you were wondering, it was better warm than cold, which was a surprise.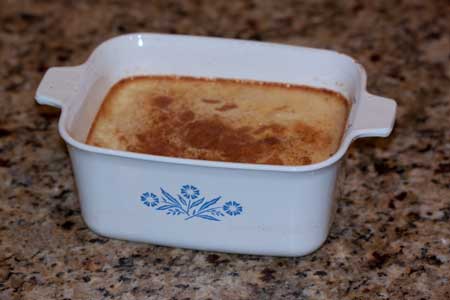 Here's a link to the Texmati old fashioned rice pudding recipe. While you're perusing the rice recipe database, check out the recipe for the Caramelized Onion Smoked Gouda and Pecan Rice Tart. I can tell you from firsthand experience that it is also very good.
Related posts: