What are your family traditions, and how do they involve jelly?
A few months ago, five clever people wrote essays answering this question and are now in the running for a family reunion to be awarded in the form of a check for $20,000 plus a $1,000 check to go toward a special reunion planner. The finalists and their recipes are posted on the Smucker's Spreading Traditions website. Read them, see how it's done, try the recipes (the chicken salad is on my list) and watch for more contests! if there's one thing I learned during my visit to Smucker's, it's that they do a lot of neat promotions all across their brands, so keep your eyes open.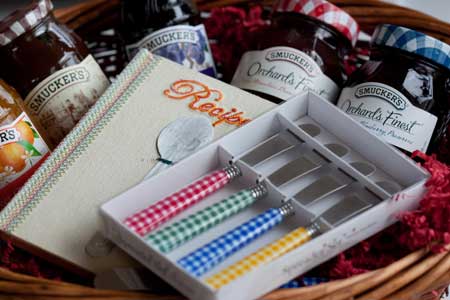 In the meantime, I'm hosting a little giveaway here (courtesy of Smucker's, of course) and giving away a very nice gift basket. You don't even have to write an essay!
For a chance at a gift basket, just "like" Smucker's on Facebook, then post a comment here in the comment section telling me one of your family traditions — jelly need not be involved, but if it is then that's awesome. I'll pick one random comment as the winner. Deadline is midnight Friday and I will contact the winner Saturday. Good luck!  Prize includes:
– A nice bakset
– A variety of Smucker's fruit spreads
– Cloth-bound Recipe book (it's blank — you add your own)
– Gingham-patterned set of spreaders
By the way, our family tradition is that every year (ideally) one parent takes a child on a parent/child or grandparent/child vacation. I started this tradition when Fuzz was about 2 1/2 by taking her to Chicago. Unfortunately, we didn't make it. The plane was delayed and Fuzz threw a wild and crazy tantrum at the airport. I could tell she was getting sick, so I called Todd to come get us and we delayed our trip. A few years later we tried again and had a wonderful time in the Windy City, complete with American Girls, lots of shopping and good food. Todd carried on the tradition by taking Fuzz to Connecticut alone, and my dad carried on the tradition by taking my cousin fly fishing in Alaska.  Twice.  Want a fun vacation?  Find a kid and go.  Anyhow,  Fuzz and I are in the midst of planning our next getaway, which is why I'm mentioning this. That, plus I think one parent/one child getaways are a great tradition in any family. I always loved them as a kid. But back to jelly….
Tell me a family tradition!
Related posts: