Good news! Thanks to ZipList, I am now hosting a virtual recipe box created just for you. This box, which I've named "Your Recipe Box" can be used to save recipes from Cookie Madness and other websites.
To access your box, go to the "Your Recipe Box" at the top of Cookie Madness. When you click the "Your Recipe Box" button for the first time, you'll be asked for two things, an email and a password.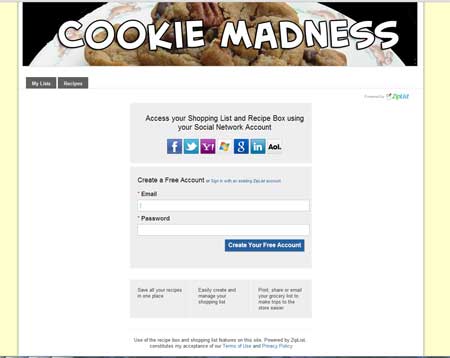 Using that information, ZipList will create your account and you will have a recipe box to hold all the recipes you save from Cookie Madness and other sources. And what's great is this box can go with you all over the web. No more logging into multiple recipe boxes to grab something you saved. Your ZipList box will hold the recipes and let you filter and search for them.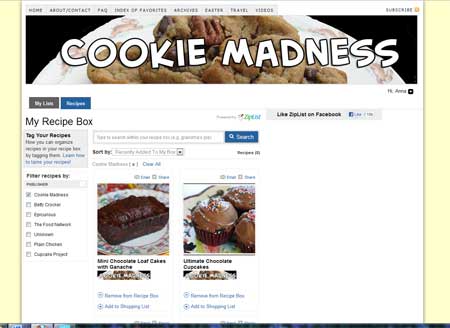 So how do you save the recipes? There are two ways. To save a recipe from Cookie Madness, click on the header of whatever post the recipe is on and make sure the post is open. Go to the left side bar and click the "Save Recipe" button. Your recipe box will open up and the recipe ingredients will be added to your box. You can save them as an ingredient list or shopping list.
What's even better is that you can clip recipes from all over the Internet even if their sources don't have Save Recipe buttons. To do that, create your ZipList account and grab the ZipList web recipe clipper. Drag it into the top bar of your browser and whenever you see a recipe you like, give it a click. Your box will open and the ingredients list and link to the recipe will be added. Note: The whole recipe will not be added. To access the directions, you'll have to click back to the source, but if you're using a desktop or a mobile, that shouldn't be a problem.
I've been using ZipList for the past couple of weeks and right now, I like it. I have a virtual recipe box which I can access at Ziplist.com, on certain blogs, and most importantly, on my phone using the ZipList ap. It's very helpful for creating shopping lists or accessing them quickly while at the grocery store.
Give it a try and let me know what you think!