Cupcakes are so popular you can buy them at sea!
Several of Royal Caribbean's larger ships have a shop called The Cupcake Cupboard, where you can eat cupcakes, take classes and buy souvenir cookbooks such as Cupcakes and Scoops.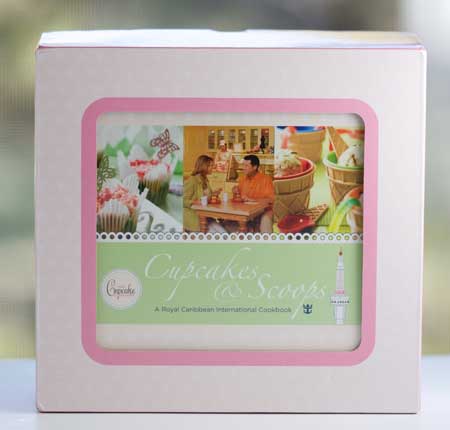 Fuzz and I are about to say "Bon Voyage!" as we embark upon our first ever mother/daughter cruise.   Since Todd's staying home,  I've left him with a copy of Cupcakes & Scoops so that along with walking the dogs, doing yard work, touching up the paint, and cleaning the carpet, he can bake us sweet treats to greet us with upon our return.
Cupcakes & Scoops, which you can also buy online via the "Gifts and Gear" section of RoyalCaribbean.com, includes a kit with an apron, piping bag and cupcake liners — things Todd will need to make our welcome home cupcakes absolutely perfect. Even though he's not an expert cupcake maker (yet), I think Todd will be able to handle these Easter Garden Cupcakes (recipe below).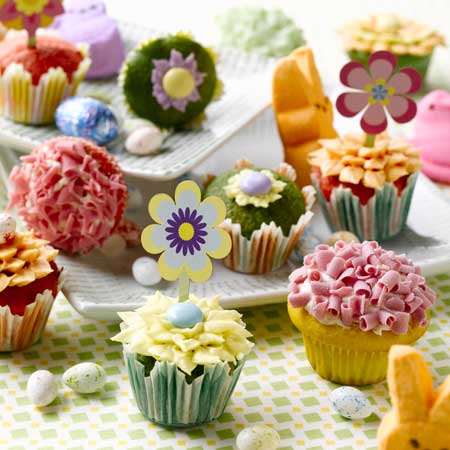 The recipes in the book are scratch, but very do-able.  In the cupcake section, there's a base chocolate and vanilla batter, plus other batters including gingerbread, peaches and cream, dairy free strawberry, red velvet, chocolate mint, cappuccino and peanut butter. And that's just a sampling.
The second section of the book features several homemade gelato recipes and ways you can pair them with cupcakes.   Along with the basic chocolate and vanilla gelato recipes, there's a  peanut butter gelato recipe which you pair with a red very coulis and mini vanilla cupcakes, a strawberry gelato milkshake made with scratch strawberry gelato, and a cookies & cream ice cream sandwich with a recipe for cookies & cream gelato and a scratch oatmeal cookies.
So along with being cute, I'd say this book will be useful for years to come. It's a great gift for any cupcake lover, but 100 times more perfect for someone who loves cupcakes and the sea. Based on the content, it's worth the retail price, and as a bonus, every $1.00 of every Cupcakes & Scoops Cookbook purchase will benefit the Make-A Wish Foundation!
Here's the sample recipe from the book and a photo of the Cupcake Cupboard (thanks to my travel agent, Marisa at Sunshine Travel for the photo!) on Liberty of the Seas.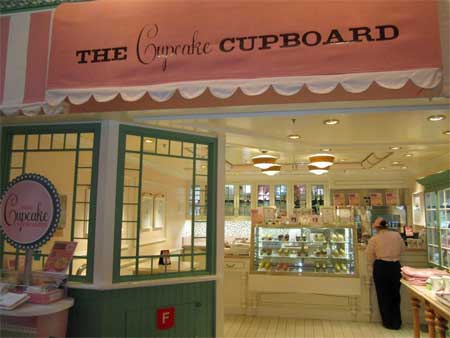 Easter Garden Cupcakes Recipe
Makes 36 mini cupcakes
Cupcakes:
1 batch vanilla cupcake mix (in book, or use box mix)
Red food coloring
Green food coloring
Yellow food coloring
Frosting:
1 batch light buttercream frosting
Red food coloring
Green food coloring
Yellow food coloring
Purple food coloring
Garnish:
Colorful chocolate curls (purchased)
Mini M&Ms (purchased)
Mini Easter eggs and other Easter candies (purchased)
Paper flower sticks (purchased)
Directions:
• Preheat oven to 350°F or 180°C.
• Line muffin cups with chosen paper liners.
• Divide batter into 3 separate glass bowls.
• Fold batters with a few drops of food coloring into each batter. Only use a couple drops at once as food coloring is very strong.
• Spoon batters into plastic sandwich bags. Snip a ¼-inch corner from the bags and fill the liners two-thirds full. Repeat operation until all the batter has been used.
• Bake for 16 to 18 minutes or until a toothpick inserted in the center of the cupcakes comes out clean.
• Remove cupcakes from the baking pan and let cool on a wire rack.
• Divide buttercream into 3 or 4 separate glass bowls.
• Mix each buttercream batch with a few drops of food coloring.
• Spoon colored buttercream frostings into piping bags or sandwich bags fitted with a small leaf like tip, a small open star tip, a small round tip, or just drop a spoonful of frosting onto each cupcake and gently spread around.
• To make flower cupcakes, pipe colored buttercream onto each cupcake starting at the outside edge of the cupcake, in a circle with slightly overlapping leaves. Repeat the motion until the entire cupcake is covered with leaves. Decorate with mini M&Ms or other candies of your choice.
• For flower pots, spread colored butter frosting around the cupcake and dip into a dish full of colorful chocolate curls. Gently pat curls onto frosting to adhere.
Difficulty: 4 (out of 5)
.
Related posts: