Happy Friday!  To start the weekend, here's a no-oil, no-butter recipe for Chocolate Chip Apple Bread from Dupont Teflon's magazine, Carefree Cooking.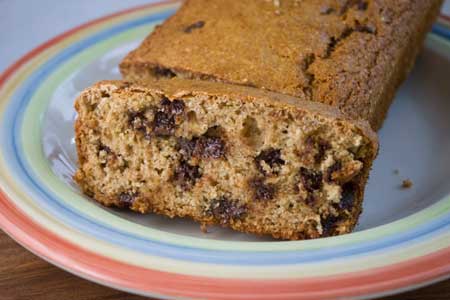 It tasted great, and might taste even better to you if you make it in a free ProBake loaf pan courtesy of DuPont Teflon.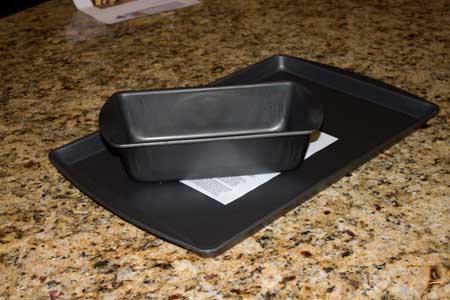 Just leave a comment telling me your least favorite step in baking, and you will be entered into a random drawing for a scratch resistant, Teflon coated ProBake loaf pan and a very durable, non-buckling, Teflon coated Pro-Bake cookie sheet. I plan on drawing a winner Monday morning, so leave your comment before 6:30 AM CST Monday morning.
And read on to hear more about my experience with the bread and the bakeware…..
The quick bread was convenient. I made it all in one bowl and didn't bother to grease or line the ProBake loaf pan since the point of the Teflon coating is to keep things from sticking. The bread baked very evenly, had a dense crust, and a surprisingly pleasing texture despite the lack of fat.
The chocolate chips did stick a bit, so I'd advise you to add a thin coat of cooking spray to the bottom of the pan if baking something with chips. Other than that, the loaf pan worked well and I'm confident most loaves, especially ones made with oil, will slide right out.
The ProBake cookie sheet was even better. I used it to roast a batch of potatoes at 450F. The potatoes didn't stick and there was no buckling, which is a problem I've been having with my other baking sheets as of late – some of which are more expensive than ProBake.
ProBake can be found at major retailers and on Amazon. Or if you're lucky, in a box on your front door! Just leave that comment telling me something you do NOT like about baking….particularly, a step. Mine would be measuring and mixing dry ingredients because I always make a mess.
If you missed the recipe link, here it is again — Chocolate Chip Apple Bread.
Disclosure: This is not a paid advertisement, but I did receive a free loaf pan and cookie sheet to sample.
Related posts: