Have you ever served a dessert so simple, yet so well received, it made you wonder why you even bothered with more complex, time consuming ones? It happens to me all the time, and last night was another instance. Using Alice Medrich's new book Sinfully Easy Delicious Desserts
, I made some incredible mini pavlovas with just a few pantry staples and fresh seasonal berries.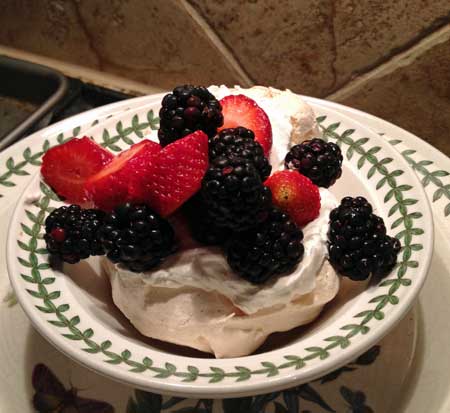 We enjoyed them so much that I've already bookmarked quite a few others from the book including
Panna Cotta (which I've never panna cotta, but it always  looks so interesting in photos)
Bill's Food-Processor Chocolate Mousse
The Best One Bowl Chocolate Cake (hmmm, we'll see about that!)
Bittersweet Brownie Drops (sooner than later!)
Chocolate Pudding Pie and
Fresh Ginger Gingerbread.
However, for those of you with a more sophisticated palates, your bookmarks might be different. The book also includes
Sauteed Figs
Sour Cream Souffles
Coconut Flans with Muscovado Sugar Sauce
Plums in Brandied Coffee Syrup and
Coffee Granita.
And many others. Keeping in mind all of these recipes have a relatively simple execution, I'd say the book lives up to its subtitle.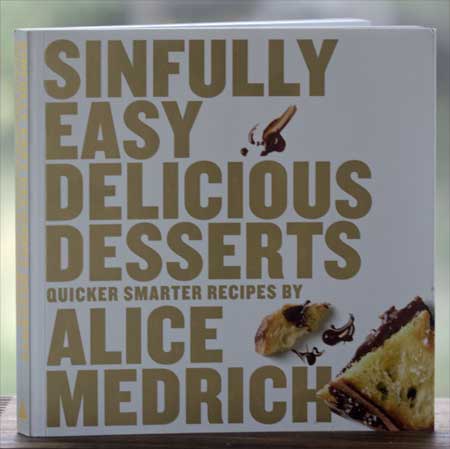 Another nice thing about the book is that it's filled with Alice's special tips. Some are general baking tips, while others are classified as "Good to Know" and are related to specific recipes. For instance, next to "Maya's Lemon Scented Apple Upside Down Cake", the author notes that you don't need to separate the eggs perfectly, but rather just break the eggs and scoop out the yolks with your fingers. In other words, she gives a reminder that since the whites aren't beaten, you don't have to be super meticulous.  And there are more notes and tips than just that type.  A cinnamon toast recipe has 10 variations, there's a full page on how to use fresh strawberries and another with multiple variations on flavored whipped cream.  You'll use this book, but for those days when you just want to lie around and read about baking, you'll be fully engaged.
To sum it up, I'd say this is one of Alice Medrich's best books in terms of content and overall tone. The pictures are gorgeous (as always), and the book is built for practical use. That is, it has a pleasing design, lays flat and wipes clean easily. Not that Alice wants you to keep it clean. In fact, she put a smudge of chocolate on it for you in advance!  It's above the O in the word "Delicious".  I keep seeing it and thinking I did it!
Related posts: