To celebrate the opening of our new neighborhood Whole Foods, I made some granola similar to that which they sell in their bakery – or at least the Whole Foods Union Square bakery.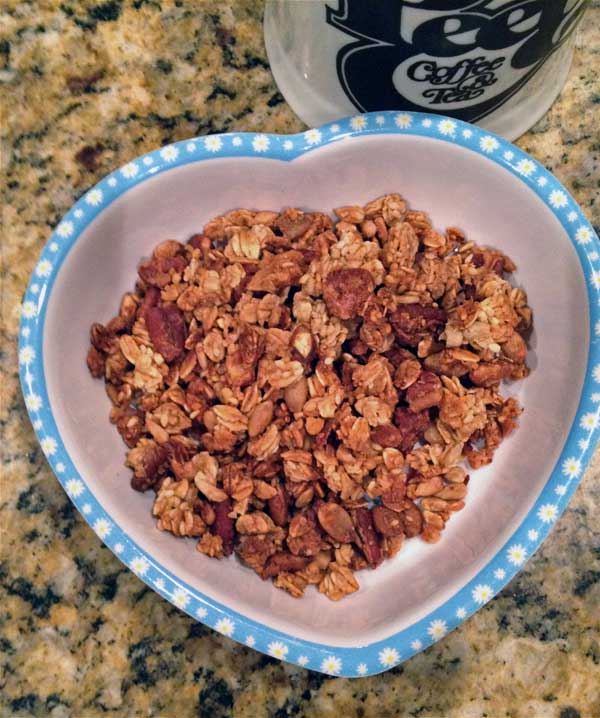 I haven't spotted this granola in the new neighborhood store, and may not since the stores carry different items, but I really enjoyed this version while in New York. It's not the as crispy as my usual granola, has very little oil, lots of spices, and is made with applesauce. I didn't love it on the first bite, but after eating it over a period of days, the texture and flavor really grew on me.
So this was my attempt to make it at home, and while it's not exactly the same, it's very similar. The recipe it's based on is Nigella Lawson's Andy's Fairfield Granola, but I made tons of changes including incorporating oat bran, using agave syrup in place of rice syrup, using coconut oil and slightly different amounts of sugar and oats. For the nuts, I used Texas pecans and walnuts.
Applesauce & Agave Granola
A low oil granola recipe made with applesauce
Ingredients
2 1/3 cups (8 ounces) old fashioned oats
1/4 cup oat bran
1 cup walnuts and/or pecans, coarsely chopped
1/2 cup sunflower seeds
1/4 cup sesame seeds
1/4 cup pumpkin seed kernels (pepitas)
2 tablespoons packed light or dark brown sugar
1 teaspoon cinnamon
1/2 teaspoon ginger
1/2 teaspoon Kosher salt
1/2 cup unsweetened applesauce
1/4 cup light agave syrup (or another type syrup)
1 tablespoon honey
1 tablespoon coconut oil
1/3 cup raisins, optional
Instructions
Preheat oven to 325 degrees F. Line a large rimmed baking sheet with nonstick foil or parchment paper.
In a large bowl, mix together oats, oat bran, nuts, sunflower seeds, sesame seeds, pumpkin seeds, brown sugar, cinnamon, ginger and salt.
To the oat mixture, add the applesauce, agave, honey, and coconut oil. Stir well.
Spread the mixture on the prepared baking sheet and bake for about 30 to 33 minutes, stirring every 10-12 minutes, until the granola is a golden brown. Remove from oven and let cool completely. It should crisp as it cools.
Notes
You can omit the oat bran and use 2 1/2 cups oats
.
Related posts: