After baking rye bread a few months ago, I started thinking of other ways to use the flour.  Cookies were the obvious choice, but would it work and would it even be worth using in cookies?  Since one of our favorite flavor combinations is peanut butter on rye, I decided to try incorporating it into a cookie recipe.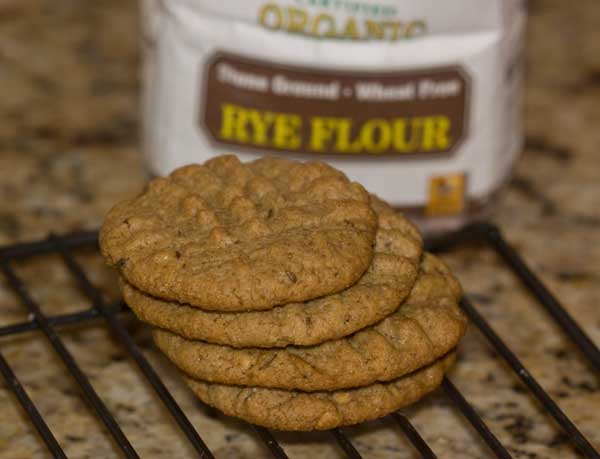 I'm not sure I'd go out and buy rye flour just to make these cookies, but it was a good way to use some on hand. What made the cookies interesting was the addition of caraway seeds. I had to play around with the amounts because they really do add a lot of flavor to the cookie, and sweetness too!  I never thought of caraway seeds as being particularly sweet, but apparently they are (and a Google search confirmed it).  As for the rye flour, it didn't add a lot of flavor, but the texture of the cookies was light and crisp, and the dough was really easy to work with.  My only caveat in trying this recipe is that you should definitely use a scale, at least for the first time, to weigh the rye flour.  I used Hodgson Mill brand organic rye, but I have a feeling different brands have different weights per cup.

Peanut Butter with Rye and Caraway Cookies
Peanut butter cookies made with rye flour and caraway seeds.
Ingredients
1 stick (4 ounces) unsalted butter, softened
1/2 cup peanut butter
1/2 cup brown sugar, lightly packed
1/2 cup granulated sugar
1 teaspoon vanilla extract
1 large egg
1/4 teaspoon salt
1/2 teaspoon baking powder
3/4 teaspoon baking soda
5.6 ounces weight (about 1 1/3 cups) rye flour
2 teaspoons of caraway seeds
Instructions
Preheat oven to 375 degrees F.
In a mixing bowl, using an electric mixer, beat the butter, peanut butter, brown sugar and sugar until creamy. Beat in the vanilla. Add the egg and beat just until it is mixed in, then beat in the salt, baking powder and soda. By hand, stir in the rye flour and the seeds. Dough should be very easy to handle – neither too dry and definitely not sticky. Hopefully you've weighed it with a scale.
Roll the dough into about 24 balls using an even tablespoon. Arrange the balls 2 ½ inches apart on ungreased cooking sheets and with a fork, press to make the criss-cross pattern.
Bake cookies for 8 to 10 minutes or just until edges are browned. Remove to a rack to cool. Let cool completely before serving (they're better cooled, in my opinion).
Makes about 24
Related posts: