Would you believe this rich, creamy, chocolate ice cream is made with only three ingredients? Okay, four if you count the fact I made one tiny addition. But the original recipe is comprised of JIF Chocolate Hazelnut Mocha Spread, Cream of Coconut, and half-and-half.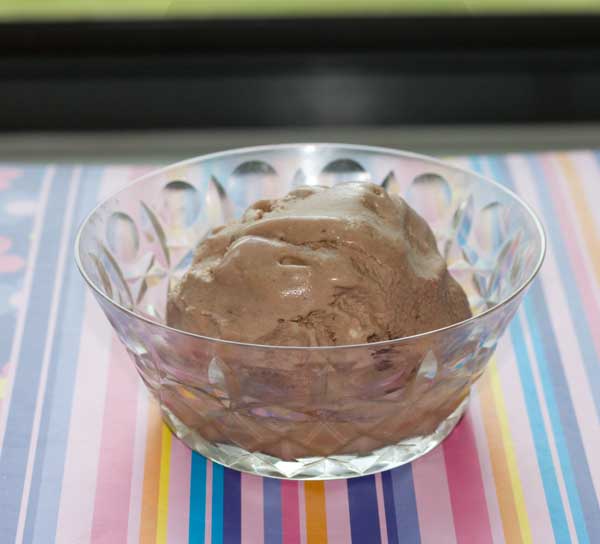 I found the recipe on JIF's website (while looking for new ways to make Monster cookies, btw!), and had to see if mixing three simple ingredients would result in decent ice cream.
The verdict, after combining the ingredients and throwing them in my much-loved yet falling apart ice cream maker, was that the ice cream was a little bit too sweet. As a remedy to that, I whipped 6 ounces of plain whipped cream, folded it into the ice cream maker, and let it churn for a few more minutes just to mix. The ice cream looked a lot like the soft serve photo in JIF's picture, but possibly a little softer. After the recommended 4 hours in the freezer, it was perfect.
Another positive thing about this recipe was that after 24 hours in the freezer, the ice cream did not develop any graininess. It did get hard and it did need to sit for a few minutes before being scooped, but it still retained a creamy, smooth texture when softened.
Here's a link to the Hazelnut Joy Ice Cream recipe. My tip is to measure out about 5 or 6 ounces of cream, whip it, then add it to the mixture. If you don't want to buy half & half and whipping cream, use 1 cup whole milk and 1 cup of heavy cream as a substitute for the 2 cups half & half, then measure and whip the additional 5 or 6 ounces of heavy cream.
Or just ignore all my tips and try the JIF recipe. Whoever came up with the idea to combine hazelnut spread, cream of coconut and half & half is a genius!
Related posts: