A few months ago I was making tons of granola and eating it all myself. It was so tempting! I couldn't pass the pantry without opening the little recycled peanut butter jarand getting a handful — not just once, but over and over during the course of the day. Granola is not exactly a low cal snack, so to curb the habit, I finished it all up and then bought a lower fat and less tempting cereal called Kashi Go-Lean which advertises it has "as much protein as an egg". The first few servings were okay, but about 2/3 of the way into it, I found that the rest of the cereal was crushed.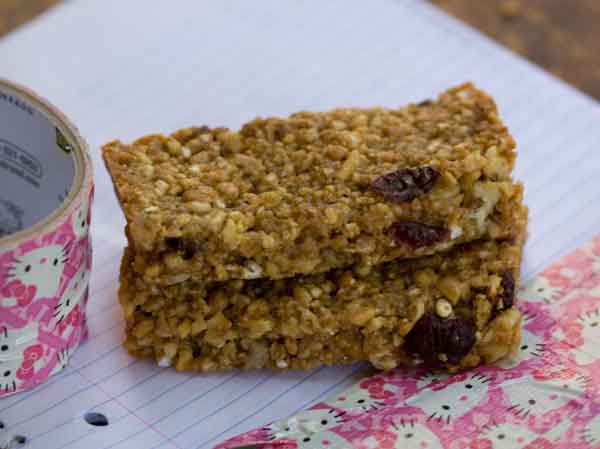 Crushed cereal is a pet peeve, so to get rid of it I turned to an old recipe called Sports Bars and made some adjustments. Instead of puffed cereal, I used Kashi Go-Lean and I eliminated the chopped dates, raisins and cinnamon. Once they were completely cool, the bars had a chewy texture and great flavor. The Go-Lean was an okay substitute for the puffed whole grain cereal, but the puffed whole grain is less dense and makes a slightly better bar. In fact, my new strategy is going to be to keep making my whole grain granola, but bulk it up with a cup or two of puffed whole grain cereal. Now I have to go buy that!  If you want to see what the bars look like when made with the puffed whole grain cereal, here's a link to a 2005 Sports Bar post by Joe. It's hard to believe we've been making these bars for 7 years.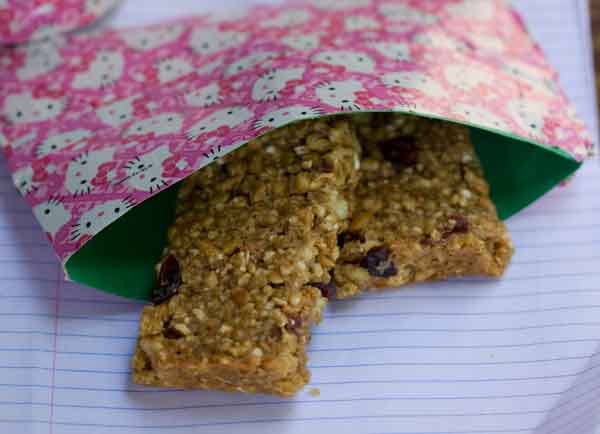 (Almost) No-Bake Granola Bars
No-bake granola bars made with crushed cereal
Ingredients
1/4 cup honey
1/4 cup corn syrup
1/3 cup extra crunchy peanut butter
3 cups puffed wheat/whole grain type cereal (Kashi) or Go Lean (see note)
1/3 cup dried cherries or cranberries
1/3 cup toasted and chopped walnuts
Instructions
Preheat the oven to 350 degrees and line a 9 inch square metal pan with nonstick foil.
In a large (3 quart) nonstick saucepan, combine the honey, corn syrup and peanut butter. Heat over medium until the mixture starts to boil, then boil gently for 1 minute. Remove from heat and stir in the cereal, cherries and nuts.
Scrape mixture into pan and bake for 10 minutes. Let cool for about 30 minutes, then lift from the pan and score (do not separate) into 8 bars. Let the bars cool completely.
Related posts: