If you noticed this week's cookies all call for Greek yogurt, there's a reason. Voskos sent us some free samples, and I've been having fun developing new recipes with their yogurt.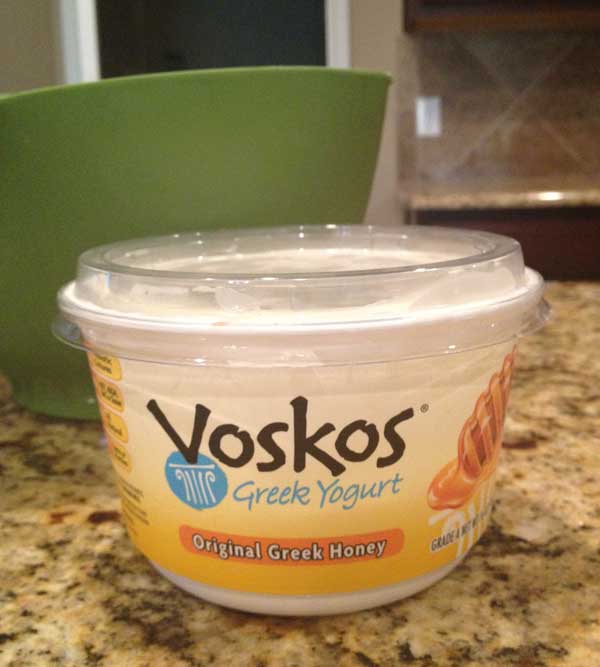 Greek yogurt is a great protein source and its live cultures benefit the immune system and digestive tract. It tastes good straight out of the carton, but is also perfect for baking since it adds tenderness and moisture without adding a lot of fat. But you know that, right? So how about a giveaway (and a delicious yogurt biscuit recipe)!
For a chance to win five free coupons for Voskos yogurt, leave a comment telling me what you or your kids are going to be for Halloween. Sorry the comment is not yogurt related, but I actually read these comments so I tried to pick something interesting. Please leave your comments all week long. The deadline is Friday, October 5 at midnight, and I will contact the winner on Saturday.
And while you're at it, you may want to "Like" Voskos on Facebook, where they're featuring news about the product and interesting recipes.
Speaking of which, here's mine. I used the honey flavored Voskos in southern style biscuits. Because it's sweet, I was able to eliminate sugar from the recipe. And since biscuits and honey are a natural pairing, the flavor of the yogurt came through nicely. These are rich and make the perfect base for strawberry shortcake.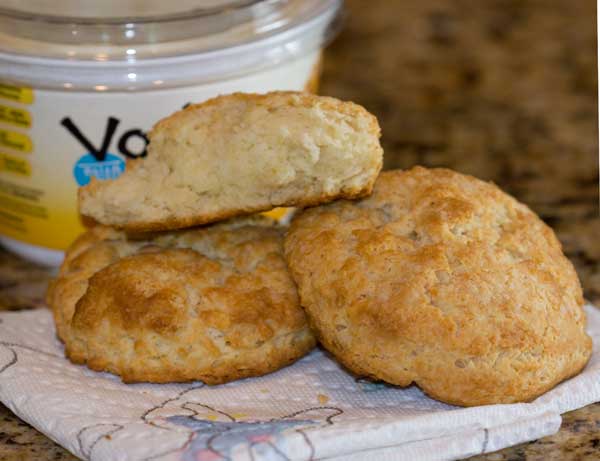 Honey Yogurt Biscuits
Biscuit recipe made with Greek yogurt
Ingredients
7 tablespoons (one stick minus a tablespoon) unsalted butter
2 cups all-purpose flour
2 teaspoons baking powder
1 scant teaspoon salt
1 cup Voskos honey flavored yogurt, full fat type
Extra melted butter for brushing
Instructions
Preheat the oven to 400 degrees F.
Put the butter in the freezer until it is very cold — about 20 minutes.
Meanwhile, in a large bowl, thoroughly mix the flour, baking powder and salt.
Using a large grater, grate the cold butter over the flour mixture. Toss it with a fork (or your fingers) until it appears coarse and crumbly.
Add the yogurt and stir to make a dough that's slightly sticky, but thick enough to be cut. Divide dough in half. Working one half at a time, press dough into a blob about 3/4 inch thick and cut three rounds using the rim of a glass or a biscuit cutter. You may have to cut two, then gather the scraps for third.. Repeat with remaining dough.
Arrange dough on baking sheet and brush tops with melted butter.
Put the biscuits in the hot 450 degree oven.
Reduce heat to 400F.
Bake for 15 to 20 minutes or until golden brown.
Related posts: