Fuzz and I made a deal, that if she got the part of Annie in her school musical, I'd take her to New York to see Lilla Crawford play the role on Broadway.  Well, guess who's going to New York?  Congratulations, Fuzz. And thanks for giving me an excuse to go to New York to see Annie, visit some museums and have a tea at Alice's Tea Cup — home of the best pumpkin scones, as well as the source of this recipe.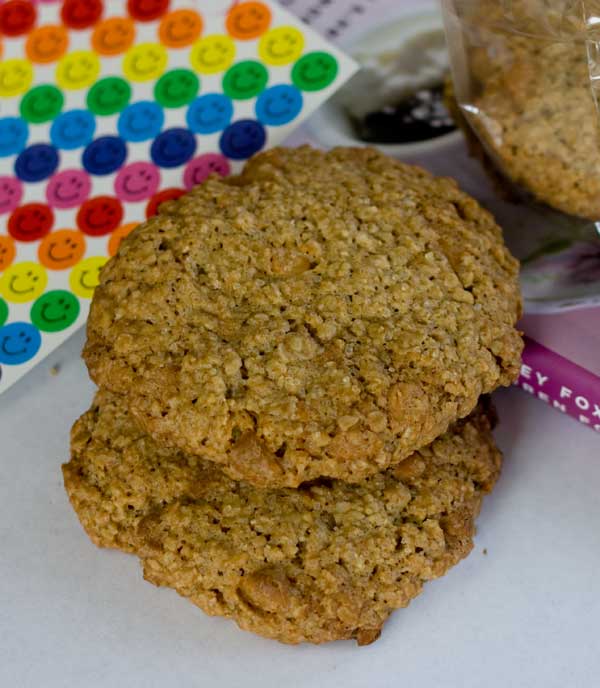 I've been using the Alice's Tea Cup cookbook for a while, but am only now getting to this recipe.  It requires butterscotch chips, rooibus tea and turbinado sugar, and I just never seemed to have all three of those ingredients at once!  Determined to finally try the cookies, described as "crunchy" (what I'm craving these days) and irresistible, I picked up the chips and turbinado at the H.E.B. and just used red rooibus, because Phoenix is practically is not so easy to find around here.
The first category these should go in is "bake sale worthy".  They were thick, hearty, and had crunchy edges.  The centers were still a bit soft, but I'm pretty sure by tomorrow they'll be hard through and through.   As usual, I took a few liberties with the recipe.  I couldn't find the right rooibus and used red, and didn't use the recommended Irish quick oats, but rather store brand quick oats.  I also used a fat combo I've been playing around with — one part European style butter and one part regular butter.  I think using the European style butter (Plugra, in this case) helps prevent spreading, which might explain why my cookies were so thick.  Or maybe that'st just the way they are.  Either way, these were very good and I'm going to put them in the rotation, which means I'll probably make them again in six years.
One final note, I couldn't really taste the tea.  Maybe if I'd followed the directions and used actual Rooibus Phoenix I'd taste it, but I feel pretty comfortable saying you could just use a little vanilla and maybe some cold coffee to get the extra 1/4 cup liquid.
Alice's Tea Cup Rooibos Oatmeal Butterscotch Chip Cookies
Oatmeal Butterscotch Cookies infused with Rooibos tea
Ingredients
4 heaping teaspoons of Rooibos Phoenix tea leaves or 4 tea bags of Red Rooibos
3 sticks (24 tablespoons) unsalted butter, room temperature (mine was very cool)
2 1/2 cups turbinado sugar
4 large eggs
3 cups (13.5 ounces) all-purpose flour
2 teaspoons baking soda
1 1/2 teaspoons cinnamon
1 teaspoon Kosher salt
6 cups quick cooking oats
3 cups butterscotch chips
Instructions
Preheat oven to 375 degrees F. and line two baking sheets with parchment paper or nonstick foil.
Steep the tea in 1/4 cup boiling water for 7 minutes. Discard leaves (or bags). Let cool and chill.
With an electric mixer, cream the butter and sugar in a large bowl. Add the cooled tea and the eggs and beat until smooth.
In a separate bowl, mix together the flour, baking soda, cinnamon and salt. Add to sugar mixture and stir until incorporated. Use a spatula or spoon to stir in the oats and chips.
Drop heaping (and by heaping, they mean about 1/3 cup, apparently) tablespoons of dough onto the baking sheets. Press down slightly. Bake for 15 to 18 minutes or until slightly browned.
Notes
The original recipe says to use heaping tablespoons, but the yield is only 20 to 24 cookies, which means you have to use VERY heaping tablespoons. Mine were about 1/3 cup, and I did press the dough down a little to shape it after dropping it on the baking sheet.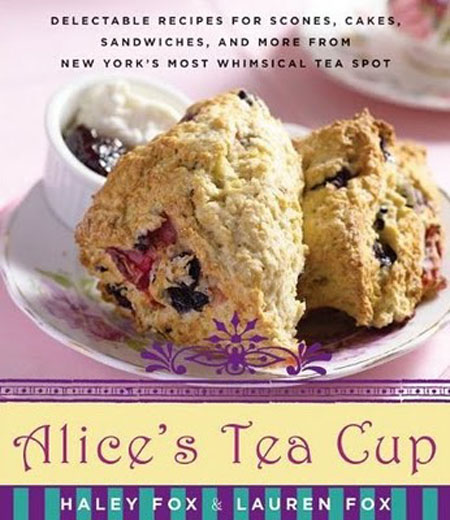 Related posts: