My latest cookie obsession has been trying to make homemade cookies similar to Otis Spunkmeyer's; however, I haven't come close.  The Otis Spunkmeyer cookies use some kind of margarine, and I haven't figured out exactly what type of margarine that is since it appears to be trans-fat free and made with just palm oil, water, salt, and a few other things they put in margarine such as vitamin a  and beta carotene.  I think it might be some special blend available to commercial bakers, but I really don't know.  Still, it's fun to experiment!   And while I haven't quite cloned those cookies, I came across a good recipe along the way and learned what cookies taste like when made with clarified butter.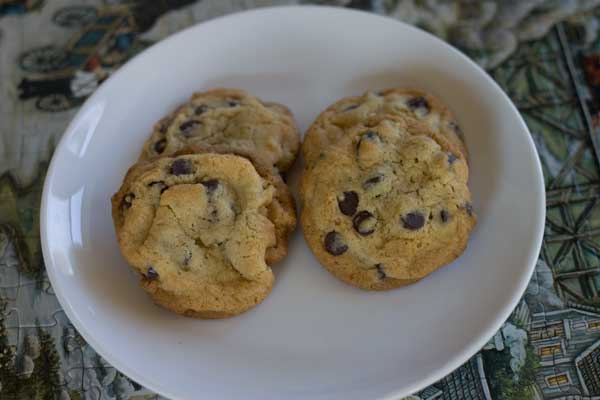 The original version of this cookie was on the back of a bottle of vanilla extract.  It was double this and called for 1 1/3 cups butter flavored shortening and baking soda (no baking powder).  The cookies were very light and flaky due to the shortening, but just not quite chewy enough in my opinion.  I like the best of both worlds, so I swapped out half the butter for shortening and added some baking powder to give the cookies a little more lift.  The results were much better.  Much like the Toll House cookies some of you make with half butter and half shortening, the cookies had crispy edges and soft centers.  However, The ratios in this cookie were a little different than the Toll House.
The third experiment was to get rid of the shortening completely and use clarified butter, which if you forgot what it is exactly, is butter that has had the milk solids removed.  It's supposed to stay fresher longer than regular butter and has a higher smoking point so that it can be used for sauteing.  The benefit of using it in baked goods is that its lower water content results in a flakier, sandier, product.   So I made a batch of  cookies using only clarified butter and once again, got cookies that were too flaky, sandy and "short".   So it was back to the drawing board.  For the final experiment, I baked the cookies using a mix of  clarified butter and regular butter.  Results were great!  Cookies had crispy edges, chewy centers and were very good, but still not as good as the shortening mix.  Shortening, maybe because of its higher melting point,  gave me a lighter, yet still chewy cookie.
At the end of the day, I'd say to make these with the shortening/butter mix, but for those of you who like using 100% butter, the clarified butter is just an alternative and something fun to try.  For a good tutorial on clarified butter, check out my neighbor Michael Chu's blog, Cooking for Engineers.
Chocolate Chip Cookies with Clarified Butter
Chocolate chip cookies with soft centers and crisp edges.
Ingredients
1 1/2 cups (6.8 ounces) all-purpose flour
1/2 teaspoon Rumford baking powder**
3/4 teaspoon baking soda
1/2 teaspoon salt
1/3 cup Clarified butter (2.3 ounces) or 1/3 cup (2.3 ounces) shortening, regular or butter flavor
1/3 cup (2.7 ounces) unsalted butter, room temperature
1/2 cup firmly packed brown sugar
1/2 cup granulated sugar
1 large egg
1 teaspoon vanilla extract
1 1/3 cups extra dark chocolate chips
1/2 cup toasted nuts (optional)
Instructions
Preheat oven to 375 degrees F. Have ready a couple of ungreased cookie sheets.
In a bowl, thoroughly stir together the flour, baking powder, baking soda and salt
In a mixing bowl, using an electric mixer, beat together the clarified butter (or shortening and regular butter until creamy. Add both sugars and continue beat just until blended. Add egg and vanilla and beat just until blended. By hand, stir in the flour mixture. When blended, stir in the chocolate chips and nuts (if using).
Scoop up measuring tablespoons of dough and arrange on the baking sheets spacing about 2 ½ inches apart. Bake on ungreased cookie sheets for 10-14 minutes or until lightly brown around the edges. Let cool on baking sheets for five minutes, then transfer to a wire rack.
Notes
**I've become really loyal to Rumford brand. It doesn't have the same metallic aftertaste as some of the others. About the clarified butter, I'm not an expert and recommend you read a tutorial if you've never done it. For this recipe, you'll need to start with a stick (1/2 cup 4 ounces) of unsalted butter to make 1/3 cup (2.3 ounces) clarified. Melt the butter over medium heat until it milk solids come to the top. Reduce heat. Being careful not to let the butter brown, skim the white foam off the top with a spoon. Pour the clear butter into a bowl and let it cool completely. If you've accidentally browned it you can pour it through a sieve or let it drip through a coffee filter (or cheesecloth if you have one) to trap the brown particles.
Related posts: